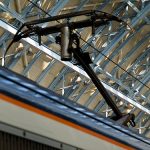 Over the last 48 hours there has been much searching for the root of the problems Eurostar has been facing. There has been plenty of human incompetence for sure, but at the start the trains were at fault. I've consistently been tweeting that the problems are not unprecedented and have indeed been encountered before, and now I have managed to dig up the evidence – this 2003 story from The Guardian:
Trains running in freezing temperatures lost power as they hit warm, humid air in the Channel Tunnel yesterday causing them to break down, a Eurostar spokesman said.

Condensation formed on the trains when the cold engines entered the tunnel where the air was much warmer – about 28C (82F) – hampering electrical systems, according to the official. "It knocks out the overhead electrical supply," he said.
It's exactly the same problem as now, only in reverse (i.e. that time the trains were going UK-France, rather than France-UK). Why then does The Guardian stick a piece on its website today saying:
Specialist engineers are still uncertain exactly why Eurostar's usually trouble-free trains failed so disastrously, after running unaffected in previous cold snaps. The firm blamed the sudden contrast for the high speed engines between freezing temperatures above ground and the heat of the tunnel. […]

"It's all a bit of a mystery and the company, and indeed a lot of people, appear baffled by it," said Nigel Harris, managing editor of Rail magazine. "But the fact that the problem has affected London-bound trains rather than ones leaving St Pancras may have been due to the fact that those heading away from London have less time to get cold.
What a load of crap. Why did no-one at The Guardian think to look at their back issues? And clearly Nigel Harris doesn't have a clue either. OK, in 2003 HSL 1 was not open, but the problem has happened the other way around, and for sure is not unprecedented. This of course has not stopped The Independent running a story in a similar vein – and it's even currently the most read article on The Independent's website, and part of it is wrong.