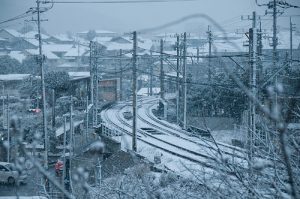 We Are Social, the firm behind Eurostar's presence on Twitter and Facebook, have written a note about their role in helping the rail company respond to the ongoing travel difficulties starting on 18th December, and continuing as I write. Eurostar ignoring Twitter, and especially @colettebalou who was stuck on one of the broken down trains, was first covered by TechCrunch.
Let's set one thing straight: social media is important in all of this, and Eurostar has not done it well.
I was not on one of the trains that broke down, but I was at Brussels Gare du Midi on Saturday morning waiting for almost 5 hours for a non-existent Eurostar. The only information available to passengers there was an announcement every half an hour or so telling us that they knew no more. The Eurostar website at that time just announced no service until further notice. I had a laptop with wireless internet and hence – mostly via Twitter – could find out more than any other passengers. There was a 32 minute period between passengers being informed at St Pancras that there were no trains, and the same happening in Brussels. When the company let passengers down with its regular communications, Twitter was the tool to network complete strangers in 3 cities together. I'm immensely grateful (in no particular order) to @janephill @laylamoran @lemercier @mreys @Tassia09 @Arnout @Chaos_Theory_Be @cjtrigg. For the passengers on the stranded trains Twitter was the main means for them to state to the outside world what was going on, and the mainstream media cottoned on to this.
All of the main communications between us passengers on Saturday morning were already well developed before any tweets from @creamoflondon (the Belgian Eurostar Twitter account) and @little_break (the UK Twitter account, run by We Are Social). The first tweets were a full 14 hours after the problems started to develop on Friday evening. However you look at it this is not good enough. Some people have naively stated that Eurostar would have been better fixing the trains that tweeting. Oh, come on, how many PR people are qualified to fix a 300km/h capable 700 tonne train?
The question has then been raised as to who should actually have stepped into the debate about the Eurostar mess on Twitter. We Are Social's note is essentially a denial of responsibility, although at least an honest one – Eurostar, prior to the mess, were only dipping their toe in the water to test social media gradually. It's also beyond me what these regular meetings between them and Eurostar could actually have entailed – their account has just 782 followers, quite some way from a stellar social media performance for a company whose trains carry 8 million people a year! That has not stopped some commenters from praising We Are Social for their approach. Today, the 3rd day of the mess, @little_break has written 4 tweets – again that is not active enough. Yes, We Are Social are fair and honest, and Eurostar could have used them better. But they too could have done better. Plus all of this follows from yesterday's inconsistency between the social media messages and the messages in the stations.
Also how many of these people thinking they are capable of commenting have actually got any first hand experience of any of this, at least when it comes to the inconsistencies? Very, very few of them. I've been at the stations, have seen what's happening there, used Twitter from the station and to follow the story subsequently. In amongst all of this there has at least been some sense – that social media should not be the main channel of communication (but the others haven't been working either!) and that all PR and comms should be joined up.
Overall the responsibility lies with Eurostar, and Eurostar has handled all of this badly. But this should be a case study for how to use social media better in the future, for the story does not show any of Eurostar's communications channels in a positive light.