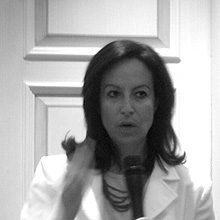 OK, I am putting 2+2 together and making 10, but if I get this one right then you heard it here first! 😉
Andy Carling, a regular commenter on this blog, stated that he had heard Poul Nyrup Rasmussen say at a press conference that the PES does have a candidate for President of the Commission, but Rasmussen would not name that person.
At the same time my attention has been drawn to an interview to Sveriges Radio (här på svenska) given by social democrat Vice President of the European Commission Margot Wallström where she states that she would like to see former Commissioner for Employment and Social Affairs Anna Diamantopoulou as successor to Barroso. This is followed up in Swedish by AiP and Byggnads (one of Sweden's largest trade unions), and in English by the European Federation of Building and Woodworkers.
So is the PES lining up Diamantopoulou? And if so, is this a good idea?
Frankly I know very little about Diamantopoulou, other than that she's a socialist and served in Romano Prodi's Commission between 1999 and 2004. I hence have no clue whether she is adequately good to be a viable candidate. If you reckon she is or is not any good please do let me know in the comments.
But more important than that: could she ever even be nominated? Firstly there's a sort of consensus that the Commission President should come from the largest party in the European Parliament after the elections. So the first hurdle to overcome would be for the PES to win the elections.
Secondly, while polls look OK for Diamantopoulou's party – PASOK – the Greek government is still centre right, with a tiny majority in parliament. Would Karamanlis ever consider nominating someone from an alternative political family? Highly unlikely was the opinion of an expert in Greek politics that I asked for an opinion on the matter. The same could be said for other possible centre left nominees – Poul Nyrup Rasmussen and Margot Wallström* herself – would the centre-right governments in their respective countries of origin actually nominate them? I think that danger would be less for my preferred socialist – Pascal Lamy – as Sarkozy previously backed socialist Strauss Kahn as Managing Director of the IMF.
I suspect that if it came to it the EP could bulldozer through its candidate, but the short term danger is surely in terms of PR. If Karamanlis is clever and Diamantopoulou's name is raised by the PES he would surely state that he would not even nominate her to be the Greek member of the European Commission – would that not kill her candidacy dead and make the PES look a bit ridiculous?
Looking at it the other way, the chance that the PES even nominates someone would make the election much more interesting. It would give the socialists a figurehead, someone to rally around, and help put across some clear and determined vision for the future policies of the European Commission. Diamantopoulou's nomination poses some complications and I would personally prefer Lamy, but if the PES do go for Diamantopoulou (or indeed for anyone half reasonable) that will be a good step forward for EU-wide democracy and will help make the EP elections a bit more interesting.
* – Wallström has continually ruled out wanthing to be Commission President