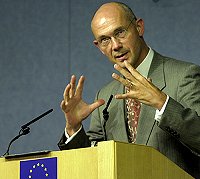 I have no idea whether it's viable, or whether he would consider it, but I think I have – from a personal point of view – come up with a candidate I would actually like to see as President of the European Commission: Pascal Lamy.
He has a background as an effective administrator, has an understated style, and knows how Brussels works. The fact that François Bayrou wanted him as French Prime Minister shows how he can have appeal across the political spectrum. He has a good grasp of English, was effective term as European Commissioner for Trade (1999-2004), and is currently Director General of the WTO – so he's not a 'put up the barriers' protectionist. In fact his approach would not be typically French. He's even an effective communicator and seems to have a sense of humour.
What speaks against him? Formally he's a socialist, and the EPP would surely demand the Commission President position. He would be tougher on Member States that Barroso has felt able to be – would Member States want that? Plus he'll be 62 years old next year, and hence 67 by the end of a term as Commission President – does he have the energy?