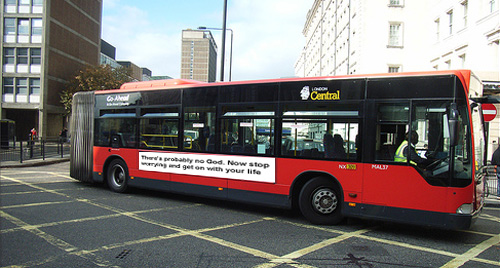 Preachers on street corners, ads in the underground and on the sides of buses – you can't spend a day in central London without being confronted by some sign that religion should be your only salvation. In frustration I've had a rather sporadic go at this in the past – shouting 'long live atheism' at street preachers and even being told 'good on you that man!' by another passenger when I proposed atheism in response to a 40 minute sermon from a mad bloke on the top floor of a 345 bus from South Kensington. In short I'm fine with people having religious beliefs, and keeping those beliefs to themselves. What I really loathe is people somehow judging that those with religious belief are somehow superior beings. I have morals, and I don't believe in god. It's possible – really.
Anyway, so why am I writing this now? Becuase I've come across an amusing column with a serious message at Comment is Free by Ariane Sherine about god adverts on buses. In it she proposes that 4,680 atheists could all contribute £5 and pay for an ad on a London bus for a fortnight. She proposed the slogan: "There's probably no God. Now stop worrying and get on with your life." It's wacky, but count me in!
[UPDATE] OK, now you can pledge your support for the campaign at Pledgebank, and also via Facebook. Not sure we're going to get close, but hell, why not try.
[UPDATE 2] Ariane has a roundup of the reaction on her own blog.