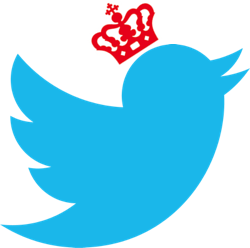 I was an early adopter of Twitter, and have been using it for political purposes ever since. Throughout that time I have conducted all sorts of experiments with Twitter, and registered dozens of Twitter usernames for numerous purposes over the years.
One of these experiments was to make unofficial accounts for all Danish government ministries on Twitter, back in April 2013. These accounts were all automated, tweeted news from the Ministries, and clearly stated in the biographies that the accounts were unofficial.
Something has recently started to change in Denmark though, as 4 Ministries have contacted me in the last few weeks to 'officialise' their accounts. The first of these – Kulturministeriet @KUM_dk renamed to @Kulturmin – has now gone live.
The process to officialise the account was however far from ideal.
I received a stern e-mail from their Comms guy, telling me the account was a "problem" (why only now is this a problem, I answered, as the account has been tweeting for 12 months?) but agreed to hand it over to them. At no point in my e-mails exchanged with them was the word 'thanks' used once from their side, and the newly-renamed and officialised account has not tweeted anything about the process to say it is now official. I've delivered them a starter-following of 110 people, for free, and helped out. As I have made clear here I will of course not demand any payment if people want access to any of these accounts I happen to have registered.
Further, if they had been friendly towards me, I could have happily sent some of my 10000 followers towards them too. But no, by being unfriendly they can have this blog entry berating them instead.