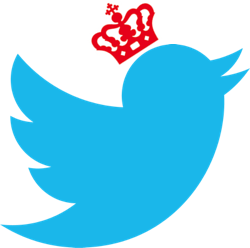 As I have previously lamented, Danish politics has been slow to take to social media, especially Twitter. So today I present my next step to do something about it…
As far as I can tell, none of the 20 Ministries of the Danish state has a Twitter news account. So I have set out to make an unofficial one for each Ministry. The full list is below, and you can follow the whole lot of them on this Twitter list.
Statsministeriet – @STM_dk
Beskæftigelsesministeriet – @BskfM_dk
Erhvervs- og Vækstministeriet – @EVM_dk
Finansministeriet – @FinansM_dk
Forsvarsministeriet – @FMN_dk
Justitsministeriet – @JustitsM_dk
Ligestillings-og Kirkeministeriet – @LKM_dk
Klima, Energi- og Bygningsministeriet – @KEBM_dk
Kulturministeriet – @KUM_dk
Miljøministeriet – @MIM_dk
Ministeriet for By, Bolig og Landdistrikter – @MBBL_dk
Ministeriet for Børn og Undervisning – @UVM_dk
Ministeriet for Fødevarer, Landbrug og Fiskeri – @FVM_dk
Ministeriet for Sundhed og Forebyggelse – @SUM_dk
Ministeriet for Forskning, Innovation og Videregående uddannelser – @FIVU_dk
Skatteministeriet – @SKM_dk
Social- og Integrationsministeriet – @SocialIntM_dk
Transportministeriet – @TRM_dk
Udenrigsministeriet – @UM_dk
Økonomi- og indenrigsministeriet – @OIM_dk
Each account will be fed with news from RSS feeds from the relevant ministry websites, and will update ever 30 minutes. Only the Ministeriet for Forskning, Innovation og Videregående uddannelser does not have RSS on its own website – there I have made a rough workaround with FeedYes, so even that should work too. I give no guarantees about how comprehensive the information will be on each of these feeds, but if you want to keep a passing eye on Danish government news in your Twitter feed then it might be worth following the relevant accounts. The biography of each account makes it clear that the account is unofficial.
The usernames I have chosen are the acronyms for the Ministries, with _dk added. In a few cases it was not possible to get these names (they had already been taken on Twitter), and hence a longer name has been used. If any Ministry wants any of these names then they are very welcome to them, for free. Please just tweet me @jonworth, or contact me.