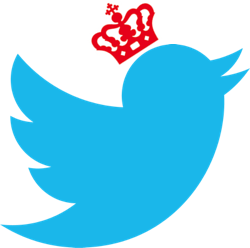 Just under 2 months ago I set about getting all Danish Ministries on Twitter, unofficially. The blog post about why I did it can be found here, and the list of the accounts can be found here.
So what has been the conclusion from the 8 weeks that have passed?
As expected, the accounts have not become extraordinarily popular – they only tweet news, and never reply. However with a total of 167 followers, and 377 tweets, some interest has been generated. Remember that these accounts all follow zero people, and never reply if anyone tweets or RTs them, and are not linked from anywhere other than this blog.
The account that has tweeted the most – @UM_dk – also has the most followers. Accounts with odd or abbreviated names seem to be the ones least followed – are people just searching Twitter for Ministries perhaps?
Lastly, and as shown by the table below, some of the accounts have received some fairly high profile followers. That the official account of the Copenhagen Region – @RegionH – follows one of my unofficial accounts is especially welcome.
I think all of this shows that were Danish Ministries to invest just a little time and energy in social media – even if only for news purposes – it would be worthwhile.