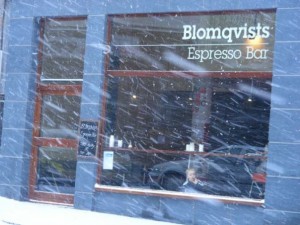 I had an hour between meetings today so called for the first time at Blomqvist's, a Swedish espresso bar on Place St Boniface in Brussels (no website yet, but FB page is here). It was a cold January morning and the place was rather empty, so while munching my Kanellebulle I got chatting to Ulric Nordin, the owner of the place, about his business strategy and how to get more clients through the door and – importantly – clients at the right times of day. "They queue out of the door on Saturdays" he told me, "but as you can see now, daytimes during the week it's quiet".

In a strange way it's not that different to a conversation I was having with John Taylor, the obsessive diver who owns the self catering place in Dahab I stayed at when learning to scuba dive in Egypt in autumn 2009. He is a diving expert and takes brilliant underwater photos and he has an excellent house that sleeps 9 people ready to rent, but where is his niche in the market to promote what he can offer?
In both cases my mind starts to work in the same way… what if this were a political campaign online? Where would I look? Where – in short – are the obsessives? The people that care deeply about the matter in question. When it comes to espresso and, to a lesser extent, diving, I count as an obsessive, and my blog posts about my Gaggia Classic and diving Lake Malawi are well read and highly ranked in Google.
So what are the basics of good online promotion for these 2 small enterprises, completely different in sector and location?
Get a good, simple (WordPress) website, designed with Google in mind
Keep the site up to date regularly with details of events, new coffees, pictures of the latest fish spotted etc. – provide something for the obsessives.
Make use of Facebook and Twitter to interact with users, and give some special offers to fans and/or followers via this medium – perhaps also find some way to give some rewards to regulars this way. Refer a friend?
Find other local enterprises to team up with, places with the right demography – The Hub Brussels is just down the road from Blomqvist's and they are active on Twitter and have the right, young audience
Make sure kind things are written about you in as many languages as possible – something like this in French would be handy in English for Blomqvist's for example
The cost of all of that? Hosting with One.com is €1,25 a month, WordPress is free to download, and Facebook and Twitter are also free to use. A few free coffees or some discounted rooms in Dahab for the people that do the promotion and you're already on your way…