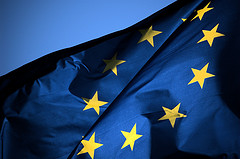 Every fifth year is decisively different for the EU: election years. And this year is one of those years. For the 40% of the population that will go to vote it's a relatively minor event, but in Brussels itself election years are very different. MEPs try to cram a few extra reports into the few sessions in spring, the European Commission winds down, and then everyone plays a game of chicken behind closed doors to determine how the juicy jobs are going to be allocated. At best it all looks opaque, at worst you get a mess similar to that caused by Rocco Buttiglione.
The EP election debate, in as far as there will be one about EU matters, will be dominated by a debate to what extent the EU should influence our lives. Eurosceptics will bemoan the 'Brussels Bureaucrats' taking away national power, and the governments in power won't contradict this to say that it was their permanent representations that gave the go ahead to everything anyway. In the meantime the mainstream parties will put forward safe candidates that are not going to do anything radical on the election campaign trail.
Then there's the issue of the Presidency of the Council of the European Union. The Czech Republic took on this task yesterday, meaning the scary combination of Topolanek's weak government, and Vaclav Klaus, will be responsible for giving the EU direction. The Presidency website looks like something made out of lego and I'm worried what will happen if the EU hits a crises with these guys in the chair.
Lastly the new Commission: we'll almost certainly get flaccid Barroso back for a second term (Anyone But Barroso if you don't want it!), the only Commissioner who is remotely down to earth and communicative will step down, and most of the member states will either nominate relative unknowns or people that they have outlived their useful lives in national politics.
So what hope for anything positive in 2009? I'm not hopeful… And I haven't even mentioned Ireland and the Treaty of Lisbon.