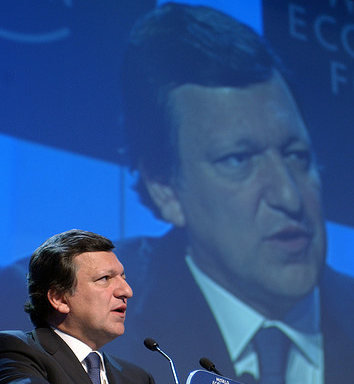 Last year a bunch of EU blog nerds had a laugh when José Manuel Barroso made a State of the European Union address (more here). The very notion that Barroso would do this made us smile, and knowing he's not a great speechmaker we played the EU version of the popular business game bullshit bingo – Barroso Bullshit Bingo.
The basic idea is that you need to list 10 words or phrases you reckon our esteemed President is going to use in his State of the European Union speech, to be delivered from 0900 CET on Wednesday 28th September, and the person with the most mentions wins… Please post your suggestions as comments below, or link to wherever your 10 phrases are. As before names of Commissioners and other EU institutions are not allowed.
As last year you can also play on Twitter, using #SOTEU (State of the European Union) and if you want for follow without humour then the Commission has an official account for the speech – @StateofUnion_EU.
Playing the game for real involves the audience shouting 'Bingo' out loud when their word is mentioned, and the speech is in the plenary chamber of the European Parliament. So any MEPs wanting to play and shout out would be most welcome!
My 10 phrases are: economic crisis, the eurozone, show leadership, speak with one voice, more integration, jobs and prosperity, what Europe represents in the world, creation of euro bonds, fiscal convergence, our friends.