Barroso Bullshit Bingo had alliteration as good as José Manuel's buzzwords. #JunckerBullshitBingo might not have quite the same ring to it, but with our beloved Commission President getting ready to make his first "State of the European Union" speech on 9th September, we in the EU blog and Twittersphere are reviving the tradition.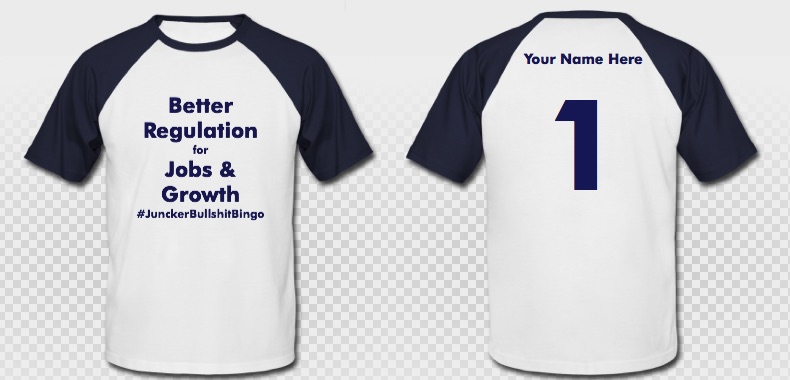 The basic idea for those that don't know the concept of buzzword bingo, or bullshit bingo, is you list a series of cringeworthy words or phrases you think a person will say before they actually give a speech, and then – when the person does actually say the phrase – shout "Bingo!" loudly. This is especially welcome in the Juncker edition from Members of the European Parliament who will be in the audience for the speech!
Advanced versions of the game allow you to fill a complete bingo card, or oblige you to drink when your word is mentioned, but due to us all watching this event on a live stream, we'll skip those embellishments. Here instead is how the #JunckerBullshitBingo will work.
List the ten words or phrases you think Juncker will say before he starts his speech at (we think) 0900 CET on 9th September. These lists can be submitted in the comments below, or by adding a link below to your own blog entry in the comments below, or by tweeting me (@jonworth) with your words. Names of other EU politicians, the EU itself, and EU institutions are not allowed. Each correct phrase used by Juncker wins you one point.
Juncker is very keen on metaphors. So this year we will add a metaphor round – suggest 1 metaphor you think Juncker will use (things like "The cow has been skating on thin ice for too long" when talking about Greece – really!), and if you get this right you will score 5 additional points. Thanks @mediawhizz for the idea for this one.
I will not enter the bingo myself – I instead will be the referee and judge, and will use the released text of Juncker's speech to judge the result.
Do follow the speech live – and on the official hashtag #SOTEU, and the game tag #JunckerBullshitBingo
The winner this year will receive a stunning prize – as shown above! Thanks to @chiara84's suggestion, the winner will receive a Better Regulation football style jersey, either male or female shape, and individually printed with their name on it. I will contact you if you're the winner to check what size T-Shirt you want. Vice Presidents of the European Commission from the Netherlands are of course most welcome to enter too.
So what are you waiting for? Submit your entries below! If you're lacking inspiration, have a look at the bottom of this blog entry, and in the comments.