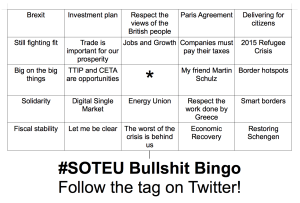 "Was it really a year since the last one?" you're perhaps asking yourselves. Yes, just as Brussels eases itself back to work after the summer break, Jean Claude pops up to tell everyone why everything is going swimmingly (or not) depending on your point of view. This year Juncker's State of the European Union speech is taking place at 0900 CET on 14th September – you can find all the details about it, and a live stream, here. If you're in Berlin you can come along to a public event with a stream – sign up here.
But – let's face it – the 2015 State of the European Union was a bit of a snooze fest, and it went on ages. So you need something to liven it up. So join in and play Juncker Bullshit Bingo! We've done it before (see my posts, and Ronny's posts).
The rules are simple. Download a bingo card (NEW! You can randomise your Bingo card using @Martinned81's version – .xlsx and .ods versions to download, F9 to randomise. Simple .odt and .doc files also available), listen in to Juncker's speech, and cross off the words as he says them. When you have a full line (vertically, horizontally or diagonally), stand up – wherever you are – and shout BINGO loudly. This works especially well if you're a MEP sitting in the plenary of the European Parliament actually listening to Juncker. Meanwhile follow the #SOTEU tag on Twitter to see how other bingo players are getting on. We'll toast the winners at the next Brussels EU Tweetup on 21st September.
Special thanks to @JBastings on Twitter for pushing me to make the cards, and contributing some of the bullshit suggestions!