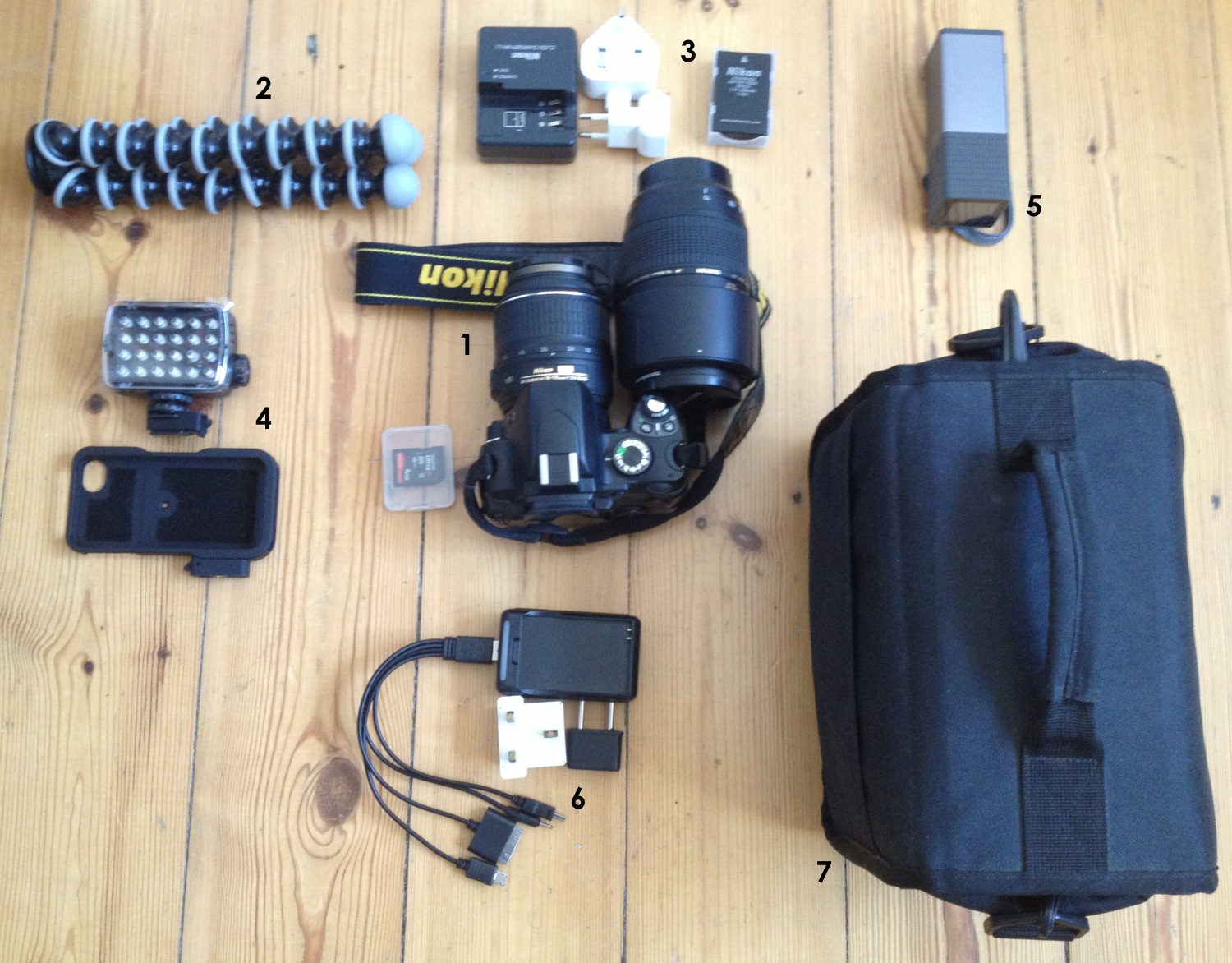 On Saturday I am heading for Saint-Malo to board Greenpeace's Arctic Sunrise for 5 days. I will be blogging / tweeting / filming / taking photos throughout the trip. So what am I going to take with me or this purpose? Items are numbered in the picture above, and click the picture for a larger version.
Nikon D60 SLR, with 18-55mm and 70-300mm lenses, and a 8Gb and 4Gb SD card
GorillaPod SLR flexible tripod
Nikon charger, spare D60 battery, and compact Apple adaptors for the charger (UK, European plugs)
Manfrotto KLYP iPhone 4S case, and Manfrotto Mini Led Light for filming
Lytro camera (for experimental photography!)
Charger for iPhone and Lytro, with UK, European plugs, with 4 way USB cable
Old Canon camera bag (everything else fits in here!)
Not shown: iPhone 4S.
Then, you say, how do you get all that stuff uploaded? Of course anything from the iPhone can be uploaded directly, but from the D60 SD cards, and Lytro built in 8Gb storage, I need a computer, so I will also have my MacBook Pro 13″ with me, and Arctic Sunrise has wifi, although with very limited bandwidth. My Huawei E585 Mifi will come in handy too when I have a 3G signal!
Thoughts? Anything I am missing (within reason – I'm not exactly flush with cash)? I also own a GoPro Hero 1, and have access to an old compact Canon IXUS camera, but I think neither of these better accomplish what I need than the kit already listed. I also have a full size tripod, but this is just too large to lug around.