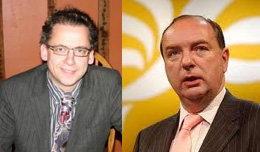 Some lines have been crossed in today's news in the UK about European Union politics.
First we have Liberal Democrat (yes, you read that right, Liberal Democrat) transport minister Norman Baker having a go at an EU transport white paper:
We will not be banning cars from city centres anymore than we will be having rectangular bananas
There's more coverage from BBC and EUObserver. I don't know whether Baker was poorly briefed, as the paper talks about petrol/diesel powered cars and not all cars to which Baker's quote refers. Anyway, if we still do use petrol cars in Europe's cities in 2050 that will be an indication that all of our climate change policies have gone entirely wrong and the world will be on the way to burning up at that point. Plus as London's air quality is chronically bad and breaches EU standards, it's not as if Baker has any sensible policy grounds to oppose the greening of EU transport, whether for cities or anywhere else. Seems like Tory EU-phobia has touched others in the coalition…
That's of course unless you're Neil Stock, Conservative leader of Tendring District Council in Essex. In this piece in The Guardian about how Jaywick, covered by Tendring District Council, is the most deprived neighbourhood in the UK, Stock says:
It is depressing being number one, because we do take this issue very seriously. It's a problem beyond the scope of a district council. We need national and European intervention [my emphasis].
In short the message to the EU: give us some cash to help us sort our deprived areas, but don't ever dare tell us how we should live. No contradiction, surely?