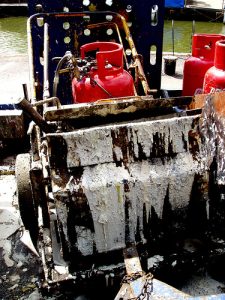 The picture on the right is a machine that applies the durable, thick paint to roads. I show it here because employing one of those is Belgium would really help me avoid having a nasty accident in the near future. The chances of it happening – unless I mount a renegade road painting movement – are probably nil. But here's to hoping.
Anyway, why do I want to paint white lines on the roads of Belgium, and Brussels most specifically – for it is in the capital that I am always on my bicycle and come close to accidents almost each and every time I ride. The problem is that there are 2 issues with the junctions here – the first is that there are almost always no lines painted on the road to indicate which way the traffic should go. Secondly, the priorité à droite rule applies, so in the case that a priority is not clear then drivers should know who wins (although no-one knows really what the rule is, as this news story in French shows).
Example 1 – Place Flagey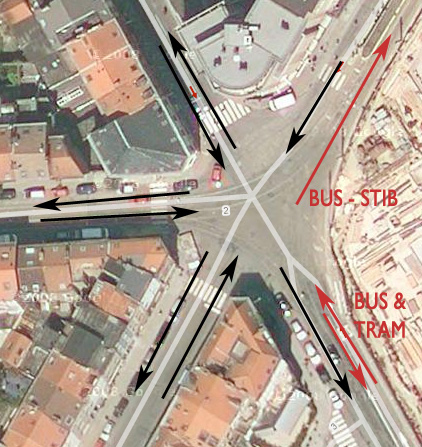 Take a look at this overhead shot of the junction at the corner of Place Flagey – towards Chausée d'Ixelles. The image from Google Maps is slightly old, the building works are now complete, but you get the idea. 3 two-way and 2 one-way streets converge, and there is not a white line in sight. Plus with STIB buses and trams going in the opposite directions, who is supposed to win? The very least that could be expected are some white lines on the road to direct the traffic. For me on a bicycle this junction is leathal – every car driver thinks that he or she has priority and hence I get squeezed between all of them.
Example 2 – Square Marguerite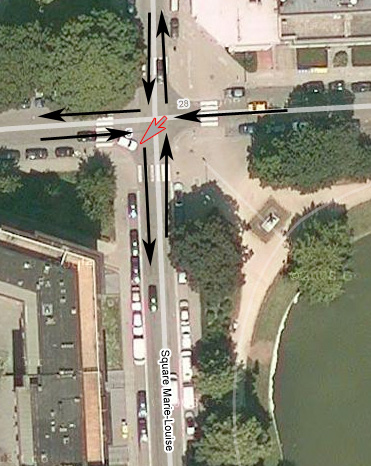 This is the perfect example of priorité à droite confusion. It's a cross-roads with 3 exists that are 2 way, and 1 incoming road that is 1 way, but the one-way street has a regular flow of traffic, and most vehicles exiting turn left, as shown by the grey arrow. If cars approach the junction on all four roads simultaneously then who wins? If you're to the right, but you're turning left, then do you still win? And what about if there is traffic coming the opposite way? Worse still, almost inevitably, car drivers never cede the priority to me, a small cyclist. I've been close to accidents at this junction at least 3 times, also because parking is allowed too close to the junction and the visibility is dreadful.
There are also plenty of other things that cause confusion – if there is a speed bump at the entrance to a side road, does that mean that the main road gets priority? Also because most speed bumps are striped black-white, similar to the triangles that are sometimes painted on roads to indicate priority?
Oh, and while we're at it, what about checking that whatever rules are in place are actually respected? The last 5 times I've taken a taxi in Brussels the driver did not wear a seatbelt. I was almost hit when cycling today when a guy was speaking on his mobile phone. Being a pedestrian in St Josse is not easy because car drivers always go through on red. Plus there are so many cars on the streets that are not road-worthy – pieces of bodywork hanging off, unsafe tires. Cars routinely park across pedestrian crossings, and regularly drive the wrong way down the one way street I live on.
These issues are not insignificant – I'm lucky to have only once crashed my bike while living in Brussels but barely a journey passes here without me being put in danger by someone not respecting the rules, or a lack of sense in junction design / lack of road paint leads to uncertainty. But this is Belgium, so it will not improve.