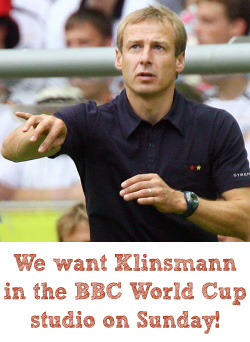 This weekend the World Cup starts to get exciting with the knock out round, and England are drawn against their old foes Germany at 1500 BST / 1600 CET on Sunday. When these countries have faced each other before the coverage in the UK press has been far from favourable, and often racist.
The BBC has a brilliant opportunity to do something about this. BBC1 will screen the match live on Sunday.
German football legend Jürgen Klinsmann is a member of the BBC's team in South Africa, and is one of the experts that can be on the studio sofa with Gary Lineker.
It would be a very positive signal in German – English relations for Klinsmann to be present in the studio – in the spirit of reconciliation and fair sporting competition.
So how do we make it happen? You can join the Facebook Group, and you can tweet using the hash tag #klinsibbc. Let's get the message out! A few thousand people supporting this might make a difference!
(Note: I am British, and also speak German. Klinsmann pic CC / Flickr license.)