EU Member States are obliged by the European Union to make available the data on recipients of Common Agricultural Policy money by 30th April each year, with data from the preceding year. Today is 1st May and Defra has put this message on its CAP payments website:
Due to the General Election campaign, this website will not be updated with the 2009 figures until after the election.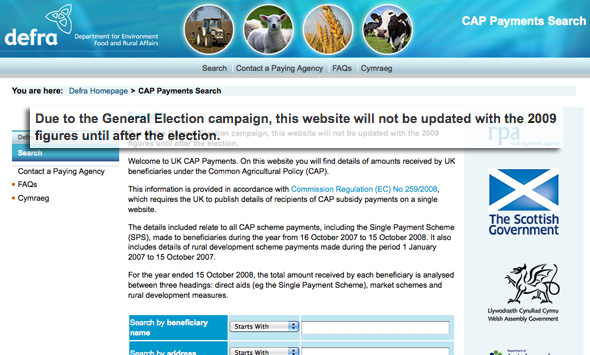 What the hell is going on?
OK, civil servants during the election period are restricted in what they can do due to the purdah rules. But the main gist of the Cabinet Office guidance for the period is this (from here):
During an Election campaign, the Government retains its responsibility to govern, and Ministers remain in charge of their Departments. Essential business must be carried on. However, it is customary for Ministers to observe discretion in initiating any new action of a continuing or long-term character. Decisions on matters of policy on which a new Government might be expected to want the opportunity to take a different view from the present Government should be postponed until after the Election, provided that such postponement would not be detrimental to the national interest or wasteful of public money.
There is absolutely nothing new about publishing CAP data. It is a long standing obligation under EU law that the UK government has to respect. So why are they not doing it? Which minister fears the release of this data now? Or is it just pure risk aversion somewhere?
In the meantime if you want to see who got what in 2008, constituency by constituency, then see Farmsubsidy's excellent election website.