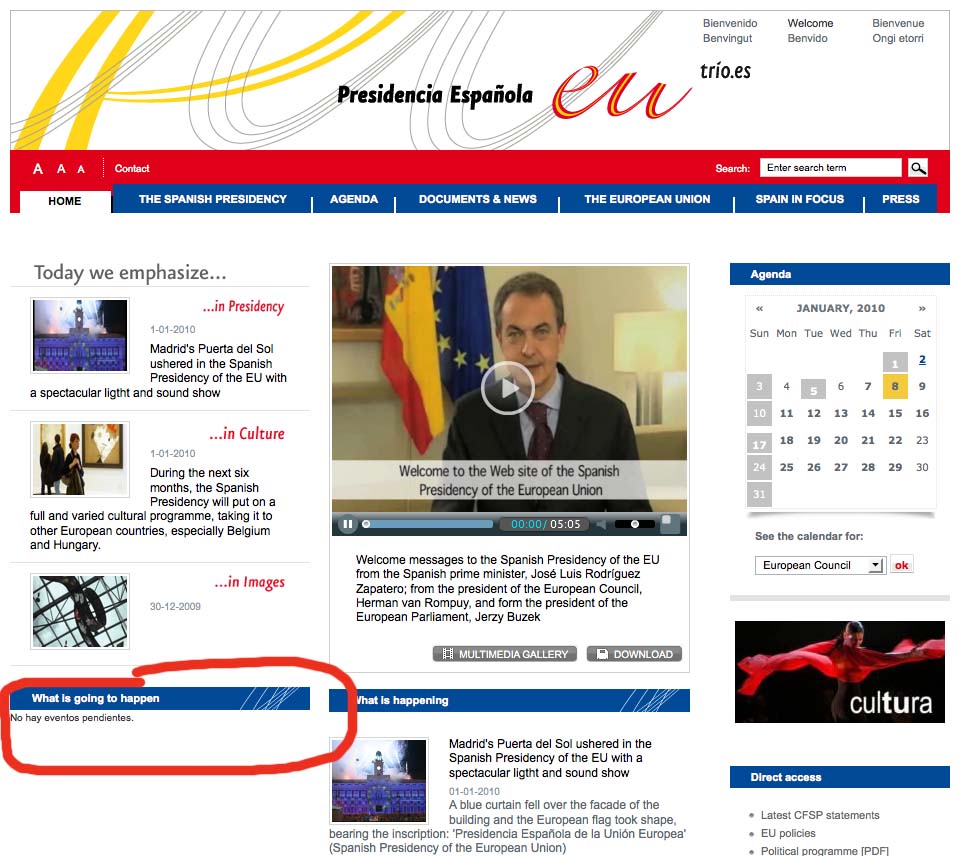 Inspired by this post on the European Citizen blog I decided to take a look at the website of the 2010 Spanish Presidency of the EU. OK, they have put some money into it, but it's miles behind the website the Swedes produced. Worst of all the section entitled 'What is going to happen' is blank, bit of failure.
Beyond that hash tags on Twitter have been increasingly used to debate the politics of various EU Presidencies… and there is not a hash tag for the Spanish Presidency as yet. This is presumably due to their lack of clear plans and probably also due to the lack of a clear web strategy. @linotherhino has proposed #esprez, so maybe if enough of us EU geeks use that tag it will come to be the accepted one? Here's the Twitter search for #esprez, while the more logical #es2010 is the tag for a social media conference in Miami!
And in the meantime if you reckon all of that's quite poor then have a look at Van Rompuy's website – very much the style of 2002!
[UPDATE 3.1.10]
In the meantime they have added some content to the 'What is going to happen' section on the live site. Wonder if all the bloggers having a go at them had some impact?
[UPDATE 4.1.10]
Seems it's all too easy to have a go at the Spanish Presidency website – there have apparently been some security exploits putting an image of Mr Bean in the search results. The budget for the web presence of the Presidency is apparently €12 million(!), and Telefonica is somehow involved. What a waste of time and cash! It would not be hard to cook up a better (and more secure) web presence using Typo3.