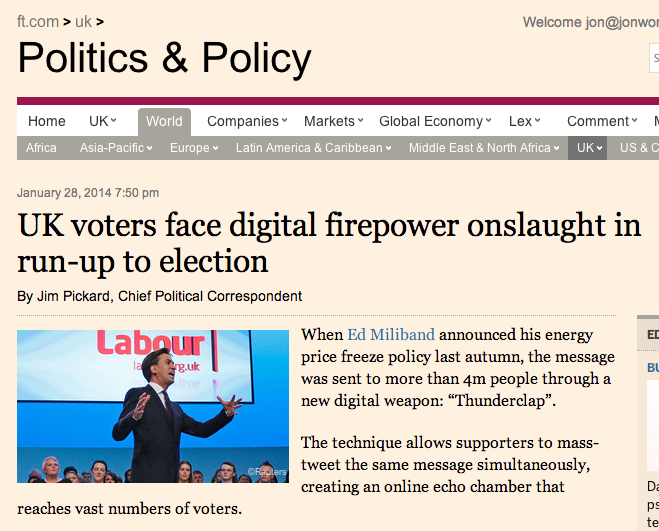 I have not been developing websites for politicians for a while now, preferring instead to do consultancy and training work for a variety of different political and governmental actors. The problem was essentially that you can bring a politician to the social web, but you cannot make them drink, and that is why website design for politicians ceased to be intellectually interesting. To put this another way, politicians see the potential of the web in classic political terms – as a means to reach more people – but largely forget the other side, that the social web gives everyone else a voice too.
And now we seem to be systematising this way of doing online politics.
That's hence what worries me about Jim Pickard's piece in the FT today entitled "UK voters face digital firepower onslaught in run-up to election". Mark Pack's blog drew my attention to the piece. I do not disagree with the way that Jim and Mark explain their views. I instead worry about the outcome.
As a citizen I do not want a digital arms race or a firepower onslaught, a means to extract every last little drop of information and activity out of me as a voter or a political activist. I want a better way of doing politics. I do not want a 'thunderclap' when Ed Miliband announces a new energy policy – I instead want a voice in shaping what that new energy policy should be. I do not want to be forever pestered every more cleverly to follow what the party HQ has decreed; I want a greater say in how politics works, and how it impacts my life. That, I fear, in the UK at least, is precisely the opposite of what is happening.