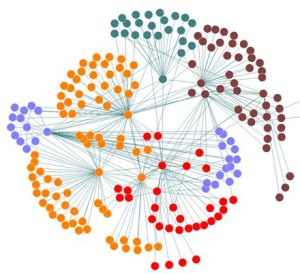 My presence on various social networks was getting rather out of hand, so I've had to work out a rule of thumb as to who to add on each network. Here are my conclusions – comments most welcome!
Facebook – I'll accept friend requests from anyone I've met and – if I happened to be in their city – I would be happy to meet for a beer or a coffee. Otherwise people can Subscribe (explained here) to my public updates, or Like my page. I will only Subscribe to others or Like pages if there's no better way to follow news from a person I don't know well enough to add as a friend, or from an organisation I want to follow.
Twitter – Anyone is welcome to follow me – it's all public anyway! I will follow back if a user's biography seems interesting. If a user is especially compelling I'll add them to a Twitter list, but only after experience following them. I will prioritise people who discuss on Twitter rather than people just broadcasting.
LinkedIn – I'll accept requests from anyone I've met and I might conceivably do business with in the future. I will take the same approach on XING and Plaxo.
Google+ – Anyone can add me to Circles as everything I post is public. I will add people to my circles if they are posting interesting content, although I am likely to be less systematic at this on Google+ as I am on Twitter, as I am a more intensive user of the latter.
Foursquare – I need to know a person very well before adding them as a contact.
Quora, Instagram, Pinterest, TripIt, Path – I am not an intensive enough user of any of these networks to know what my criteria are yet!