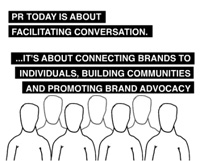 How should PR professionals use the web? That's one of the issues I read up on in order to better advise political clients with regard to the websites I produce as a freelancer. My main starting point in the UK has been Daljit Bhurji's blog (many moons ago Daljit and I used to write for the same student newspaper). His refrain is that PR firms have failed to grasp the benefits of using the web to create communications opportunities, and he's started his own agency (Diffusion PR) to try to offer specialised services in London. He cites an article by Paul Holmes as one of the sources of inspiration for the new agency, and one line of that particularly caught my attention:
Meanwhile, the annual Trust Barometer surveys conduced by international public relations firm Edelman continue to show that in major markets around the world, people increasingly find "a person like you" to be the most credible source of information: more credible by far than paid advertising and even earned media coverage.
Apply that to politics and what do you get? Most politics has always been based on that 'person like you' principle. Candidates for positions go around knocking on doors and attending rallies at election time. Meet the person, see the face, shake the hand, build the rapport. The problem is that doesn't work as well as it used to – does anyone believe the politicians as much as they used to?
Throwing money at the problem is no good. However much Labour invests in a website like Better With Labour no-one is going to believe it. A site like NHS Blog Doctor or Random Acts of Reality is much more credible (and, I suspect, has many more visitors). Even if you put a comment function on your site – like the Jim Murphy's blog – you can suffer the same fate (just with the opportunity for ranters to sound off).
Extrapolate all of that to EU politics and the potential for using the internet for political ends is even greater. MEPs can't possibly meet their entire electorate. But really using the internet to inspire and communicate, and generate conversations about politics? It's possible. With a shoestring budget we've managed to show what can be done with whodoicall.eu – 2 bloggers, 200 Euro and a bunch of folks on Facebook and we end up in IHT. The guys at Fleishman-Hillard in Brussels are making a good effort at introducing clients to Web 2.0 but I suspect no MEPs could afford them. Puffbox is doing interesting work in the London political arena. But in Brussels?