Jeżeli trafiłeś na ten blog po przeczytaniu wcześniej artykułu w Gazecie Wyborczej, zwróć proszę uwagę na dalsze wyjaśnienia i pytania w komentarzach. Natknąłem się na te informacje przez przypadek i nie wiem jak odnoszą się one do innych państw członkowskich UE. Gazeta zakłada, że z uwagi że jestem Brytyjskim blogerem chcę mniej pieniędzy dla budżetu UE. To nie jest prawda – jestem zwolennikiem większego budżetu UE.
If you arrive at this blog post after reading the story about it in Gazeta please note the clarifications and questions in the comments. I came across this issue by chance, and do not know how this compares to other EU Member States. Gazeta assumes that I want less EU budget because I am a British blogger. This is not correct – I am in favour of a larger EU budget.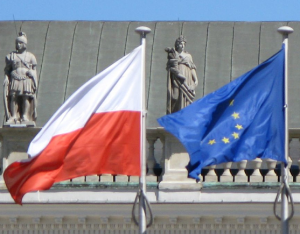 A couple of weeks ago on Twitter, @euro_jonathan and I were debating the staff budgets allocated to MEPs, and stumbled across some Polish MEPs who seemed to be employing abnormally high numbers of assistants. Spurred on today by this horribly inaccurate Telegraph piece about the costs of running the European Parliament that doesn't even mention staff costs (nor interpretation), I thought I would quickly revisit the Polish MEPs issue.
The table below lists the MEPs in alphabetical order, and names their group in the European Parliament, their Polish party, gives a link to the official biography page about the MEP on the EP's website, and lists the number of Accredited Assistants and the number of Local Assistants. These numbers are taken from each MEP's biography page on the EP website.
The 2011 figure for a MEP's staffing costs allocation – the latest I can find on the EP website (at the bottom here) – was €21209 per month per MEP.
One MEP – Ryszard Antoni LEGUTKO of the ECR Group – employs 1 accredited assistant, and 18 locals. Two further MEPs – Tadeusz CYMAŃSKI of the EFD Group and Ryszard CZARNECKI of the ECR Group – each employ 2 accredited assistants and 15 local assistants. The slight irony is that those British 'get rid of Brussels waste' crusaders the Tories also sit in the ECR Group, while UKIP sit in the EFD Group.
I do not know what conclusions to draw from this. Dividing the €21209 by 19, does not give a stellar wage to the people Legutko employs. Conversely, what does a MEP need 19 assistants for? Are all of these people really and genuinely doing work only for him, and are not doing other party work on the side? Or are the MEPs simply lazy, and have not removed former employees from their books?
Anyway, however you look at it, this situation does not look healthy.
Name
EP Group
Party
EP Bio
Accred
assts
Local
assts
Adam BIELAN
ECR
Niezależny
Bio
1
3
Piotr BORYS
EPP
Platforma Obywatelska
Bio
1
5
Arkadiusz Tomasz BRATKOWSKI
EPP
Polskie Stronnictwo Ludowe
Bio
2
5
Jerzy BUZEK
EPP
Platforma Obywatelska
Bio
2
6

Tadeusz CYMAŃSKI

EFD

Solidarna Polska

Bio

2

15

Ryszard CZARNECKI

ECR

Prawo i Sprawiedliwość

Bio

2

15

Lidia Joanna GERINGER de OEDENBERG
S&D
Sojusz Lewicy Demokratycznej
Bio
2
6
Adam GIEREK
S&D
Unia Pracy
Bio
1
6
Marek Józef GRÓBARCZYK
ECR
Prawo i Sprawiedliwość
Bio
1
13
Andrzej GRZYB
EPP
Polskie Stronnictwo Ludowe
Bio
2
12
Małgorzata HANDZLIK
EPP
Platforma Obywatelska
Bio
2
10
Jolanta Emilia HIBNER
EPP
Platforma Obywatelska
Bio
2
10
Danuta Maria HÜBNER
EPP
Platforma Obywatelska
Bio
3
3
Danuta JAZŁOWIECKA
EPP
Platforma Obywatelska
Bio
3
3
Sidonia Elżbieta JĘDRZEJEWSKA
EPP
Platforma Obywatelska
Bio
2
2
Filip KACZMAREK
EPP
Platforma Obywatelska
Bio
1
7
Jarosław KALINOWSKI
EPP
Polskie Stronnictwo Ludowe
Bio
3
11
Michał Tomasz KAMIŃSKI
ECR
Polska Jest Najważniejsza
Bio
3
3
Lena KOLARSKA-BOBIŃSKA
EPP
Platforma Obywatelska
Bio
2
8
Paweł Robert KOWAL
ECR
Polska Jest Najważniejsza
Bio
1
4
Jan KOZŁOWSKI
EPP
Platforma Obywatelska
Bio
3
1
Jacek Olgierd KURSKI
EFD
Solidarna Polska
Bio
2
5

Ryszard Antoni LEGUTKO

ECR

Prawo i Sprawiedliwość

Bio

1

18

Bogusław LIBERADZKI
S&D
Sojusz Lewicy Demokratycznej
Bio
1
13
Krzysztof LISEK
EPP
Platforma Obywatelska
Bio
3
4
Elżbieta Katarzyna ŁUKACIJEWSKA
EPP
Platforma Obywatelska
Bio
2
4
Bogdan Kazimierz MARCINKIEWICZ
EPP
Platforma Obywatelska
Bio
2
4
Marek Henryk MIGALSKI
ECR
Polska Jest Najważniejsza
Bio
1
8
Sławomir NITRAS
EPP
Platforma Obywatelska
Bio
2
3
Jan OLBRYCHT
EPP
Platforma Obywatelska
Bio
2
6
Wojciech Michał OLEJNICZAK
S&D
Sojusz Lewicy Demokratycznej
Bio
4
4
Mirosław PIOTROWSKI
ECR
Prawo i Sprawiedliwość
Bio
2
4
Tomasz Piotr PORĘBA
ECR
Prawo i Sprawiedliwość
Bio
2
8
Jacek PROTASIEWICZ
EPP
Platforma Obywatelska
Bio
3
6
Jacek SARYUSZ-WOLSKI
EPP
Platforma Obywatelska
Bio
2
5
Joanna SENYSZYN
S&D
Sojusz Lewicy Demokratycznej
Bio
1
12
Czesław Adam SIEKIERSKI
EPP
Polskie Stronnictwo Ludowe
Bio
2
14
Marek SIWIEC
S&D
Sojusz Lewicy Demokratycznej
Bio
2
6
Joanna Katarzyna SKRZYDLEWSKA
EPP
Platforma Obywatelska
Bio
2
4
Bogusław SONIK
EPP
Platforma Obywatelska
Bio
1
6
Konrad SZYMAŃSKI
ECR
Prawo i Sprawiedliwość
Bio
1
13
Róża Gräfin von THUN UND HOHENSTEIN
EPP
Platforma Obywatelska
Bio
2
3
Rafał TRZASKOWSKI
EPP
Platforma Obywatelska
Bio
2
3
Jarosław Leszek WAŁĘSA
EPP
Platforma Obywatelska
Bio
2
6
Jacek WŁOSOWICZ
EFD
Solidarna Polska
Bio
3
8
Janusz WOJCIECHOWSKI
ECR
Prawo i Sprawiedliwość
Bio
1
12
Paweł ZALEWSKI
EPP
Platforma Obywatelska
Bio
1
6
Artur ZASADA
EPP
Platforma Obywatelska
Bio
3
8
Janusz Władysław ZEMKE
S&D
Sojusz Lewicy Demokratycznej
Bio
1
9
Zbigniew ZIOBRO
EFD
Solidarna Polska
Bio
3
2
Tadeusz ZWIEFKA
EPP
Platforma Obywatelska
Bio
2
10