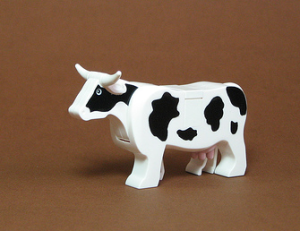 I managed to avoid the milk-farmer chaos in Brussels on Thursday and Friday – hundreds of tractors driving slowly to bring protests about low milk prices to the European Council. But what exactly are the farmers whingeing about, and what should be done about it?
This piece from EUObserver has more – it costs €33 to produce 100 litres of milk on a Belgian farm, and wholesalers are buying milk for just €19 per 100 litres. The farmers would ideally like a price of €44 per 100 litres. In any normal sector of the economy the high-price producers would go out of business, and those that can produce at a lower price would get the business, profiting from economies of scale or better technology. Look at how OPEC works – reduce production to drive up prices. Sorry to put it bluntly, but if the prices are too low, then some cows are going to have to be slaughtered.
Another alternative would be to appeal to customers that might be more inclined to buy local rather than imported milk, and pay a premium for the privilege – some equivalents of the British Farm Standard scheme might do to the job.
But what do the farmers do instead? They come complaining to the European Commission, and governments in each of the Member States, whining that something should be done to help their plight. It's the EU's plan to phase out the quota system for milk that is to blame they bleat – the very quotas that were introduced in the 1980s to prevent over-production of milk and were detested by milk farmers at that time. Keep the quotas, keep our prices up!
The EUObserver piece quotes a farmer: "It's not a problem of the stores, it's a problem of a regulation by the states and overall by Europe" – no. The problem is with the farmers who cannot except the logic of simple market forces. If the price of milk is too low, then produce less. Don't produce at a loss and then go begging for assistance from the EU.
(Apologies if this article is really wide of the mark – I've scoured the web and cannot find anything except hot air and hollow rhetoric from farmers on this – if I'm missing some fundamental point to the economics behind this then please do tell me in the comments)