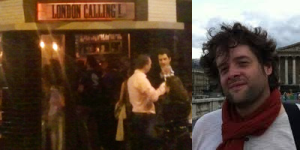 Everyone's favourite Europhile with a British passport Anthony Zacharzewski (@anthonyzach) is in Brussels on 14th October. So we will run an #EUtweetup that evening, to show him that Brussels is not all just grey corridors and committee meetings. Anthony also runs The Democratic Society in the UK, so people interested in democratic participation should also come along.
The location is London Calling on the corner of Place de Londres (map) from 1800 on Monday 14th October. It's 5 minutes on foot from Place Lux, and 5 minutes from Trone Metro Station. If you can't find us or want to know if we're still there, DM me on Twitter, or have a look at the hashtag #EUtweetup.
I'm often asked: what is this #EUtweetup thing? It's quite simple: we nominate a bar or pub, and a time, and people come along to meet people they have until now have only communicated with on Twitter. Anyone is welcome to come along, and judging by how these events have worked until now everyone seems to have a good time. Plus if you're lucky, @capitain_europe has been known to put in an appearance, wearing his full outfit.