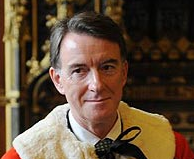 A post at Dizzy Thinks caught my eye. Gordon Prentice MP, never one to beat about the bush – has said stated this in a Commons motion:
That this House believes that individuals who are given peerages to enable them to serve as Ministers in the House of Lords should relinquish the peerage on leaving the Government.
Sorry Dizzy and Gordon but while your point could perhaps be correct from an ethical point of view, it's not right from a legal point of view, for it's only possible to resign a hereditary peerage – as pioneered by Tony Benn.
Baroness Sarah Ludford, a Lib Dem life peer, is also a member of the European Parliament. From 2009 onwards the EP has a rule that its members cannot also sit simulataneously in national parliaments. So Ludford wanted to leave the House of Lords, but could not resign a life peerage. Hence the The European Parliament (House of Lords Disqualification) Regulations 2008 to withdraw the peerage. Now I'm not sure that's quite what Prentice was advocating… This issue was also highlighted when I raised the issue of whether Baroness Ashton's peerage was compatible with the job as a member of the European Commission.
Anyway, what's the main issue behind all of these technicalities? Essentially Prime Ministers need the opportunity to bring people into government from outside the House of Commons. The way to do this has been to make them life peers in the House of Lords. Wouldn't it just be easier to appoint people to government, and allow them to be questioned by either house, but not have to make them Parliamentarians? Most other European countries organise their government that way – I would be happy to see that happen, and hence Prentice's question would cease to be an issue.