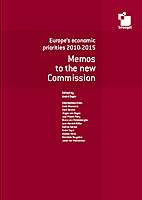 *** HIT REFRESH IN YOUR BROWSER TO SEE THE LATEST UPDATES ***
Panel Ratings:
-> Andre Sapir 7/10 – clearly sharp, spoke well, wish he had critiqued the politicians too
-> Elmar Brok 5/10 – sometimes clear, other times clearly torn inside, cantakerous
-> Poul Nyrup Rasmussen 8/10 – on good form today, clear, coherent and optimistic
-> Annemie Neyts-Uyttebroeck 4/10 – no clue what her message was really, incoherent
-> Danny Cohn Bendit 6/10 – wins on humour, political ideas OK, but he's a maverick
That's all for now folks. Have a read of the paper here.
1158 – Poul saying that the US is working on a transaction tax, this is not just a EU discussion. We have transaction taxes all over the place in different countries of the EU already.
1155 – ELDR parties do not agree on taxation. Some want EU tax, others don't want it mentioned. So ELDR is neatly on the fence. Neyts-Uyttebroeck calls the position "clear". Now speaking of free movement of knowledge.
1150 – We need to protect the single market from mad speculation. Scrapping cars was one of the worst decisions ever made. We need a new balance between market and regulation. If we don't get that we don't get the rest.
1145 – Brok: have to keep standards on European law. Should not set new standards, new legislation, before implementation is complete and this is a value too. Seldom is taxation the way out of a crisis, look at how private money can be used for investment again. We should not be forcing industry?
1141 – Pisani-Ferry: No doubt Jacques Delors would appreciate the comparion!
1140 – Roland Freudenstein: People seem to want to ask what would Delors do? Is it like American evangelicals asking what would jesus do?
1137 – There should be a rule in Q&A – that you actually ask a question. Rather than stating a long and incomprehensible ramble. Get to the point people!
1132 – Now we're on to Q&A. A chap from BEPA is saying they are thinking a lot the same way as Bruegel. Will Barroso listen?
1130 – It's dangerous for a German politician to say that there should be more economic coordination at EU level. Germans have to move, French have to move.
1126 – Brok will not answer more on Danny's Barroso obsession…
1124 – Poul is introducing the idea of Eurobonds, create an agency, a pool of national bonds. Reform the financing system at EU level, can finance green growth. Can manage much earlier start growth again.
1120 – Poul would be happy if the Commission would take the memo as its manifesto for the next 5 years. That would be fine. Secondly, don't fall into the trap that out of the crisis means back to normal – there will be no back to normal. It will be a new period after. Don't imagine that any country could copy flexicurity from Denmark, but changing job means you do so with security, with effective labour market policies. We will not have a u-turn in economic growth 2 years from now, consensus is a sluggish growth period, 0.5% or so for 2 years. We're going to get 27 or 28 million unemployed in Europe.
1119 – Neyts-Uyttebroeck is complaining how public debates are not at the same level in EU countries as they are in USA on healthcare. Not sure I follow…
1117 – Neyts-Uyttebroeck is not as critical of the Commission, and thinks that members of the European Parliament are not much better. They approach budgetary questions same way – I approve your project, if you approve mine. Same style as Brok's critique of the Commission.
1115 – Danny's critique of Barroso is making people smile – all Barroso says is things about wanting to be re-elected. Look at the G20 pre-summit, it's a FR-DE initiative, national propositions from those to countries. Why is the EU not leading? We also have a 'human capital crisis'!
1114 – Danny saying we can go to 1.24% of GDP for the EU budget without treaty change. Puts his hand on Brok's arm, knowing Brok's party will not like it. Did anyone hear anything from the President of the Commission over the summer!
1111 – Bruegel's approach is a little strange here – Pisani-Ferry, Veron and Sapir say that they are not 'political' all the time. OK, they want to produce an economic analysis, but the debate here is intensely political. Plus all of them have political as well as economic views.
1108 – Sapir saying the memo does not really address the EU budget in the memo, and how 2008-09 has not been really the budget debate that was envisaged. We know what he thinks about that! 🙂
1107 – Nicolas Veron of Bruegel says there is policy momentum at EU level, we need to avoid knee jerk reactions.
1104 – Danny aims a playful punch towards Brok's head at the end of his speech.
1101 – Brok wants one voice in the world, hence contradicting himself. This is also not really possible in terms of policy competence either (see 1054). Proposes putting enlargement and neighbourhood policy together.
1058 – Leaders in national capitals have to agree to priorities, as the EP must also do. "We discuss the salt in the bread, but not the real issues" says Brok. Hmmm. He's not being especially coherent. Rises the issue of the G20, not sure quite how this relates to the rest of the paper. Polish workers are going back from the UK Mr Rasmussen! Our solidarity policies are working.
1057 – Brok is not so negative about Barroso. Can have more courage than he had. Same for the College of Commissioners, no more 'if I support your rubbish, you support my rubbish' in the Commission. So it applies to the whole college.
1055 – There are many challenges Member States cannot deal with any more. We need common energy policies for example. EU is 8% of world population, but 1/3 of GDP of the world. Use this influence.
1054 – European Union has no tax competence, so we should concentrate on what we can do – in reply to Danny. Hang on Elmar, you used to be in Europa Union. What happened to the federalist vision? Anything to do with the election this year in Germany, Elmar? Not wanting to offend Angela Merkel?
1054 – Elmar Brok is last up.
1053 – Pisani-Ferry says 'we'll see' about the latter point about the memo being useless.
1053 – We have European Institutions and a proposed Commission President that is not at the level that is needed. If we don't win the battle in the Commission then the memo will be very nice, but useless!
1052 – We cannot save the world paying less taxes. We need carbon taxes, ecological fiscality. Danny is waving his hands and getting quite excited.
1050 – Have to prove that institutions are really at the centre of solving problems. We're now talking Tobin Taxes etc., this is a new moment. We have to tax circulation of capital, and deal with environmental questions. We need to relieve the pressure on work.
1049 – Danny is looking rather red in the face. Is he that mad at Barroso?
1047 – No Member State can really do anything. Most states did not take the financial markets in their hands. The same person putting the shit on the table are the people trying to remove it. We do not have functioning European institutions. "We need a stronger sense of direction!" – and we give the wrong person the right memo, and then everything is OK? Not sure the person in question can change!
1046 – We are at a turning point, we are facing a lot of crises – financial, economic, globalisation. Who stands where? You can say the nation state will protect the people – Danny thinks this is a dead end.
1046 – Danny Cohn Bendit is up next.
1044 – We need understandable, coherent solutions. Also on free movement of labour. We have a forced movement of labour, not a free movement of labour. Clash between single market versus labour needs. Cites Laval case. Do we just leave things to the ECJ to solve things? It's not the Court of Justice that should solve the clashes.
1042 – Could you envisage a European transaction tax, Jean and André, that could be used for the own resources of the EU budget? We should go this way says Poul.
1042 – Andre, you're so smart (I know from Jean), why not try a new transaction tax? Second generation of a Tobin Tax. Even in London the debate has started.
1040 – How can you ask those that caused the crisis to find ways out of the crisis? Would like more ambition on financial markets. Insist on universality in regulation across the EU. Also insist on new principles for the financial system – should be transparent, low cost, efficient, but should be a servant of the real economy.
1039 – The greatest risk is starting with business as usual. Have the financial markets forgotten what we have been through?
1038 – We have had a Commission with a President with a chronic lack of ambition. We need strong leadership now, that person may suffer in the Council / European Council. But with the creation of the single market it was a tough, historical fight. Sock it to them Poul!
1037 – Poul is concerned about the exclusion effects of the crisis. The excluded will be the ones paying the price. Thinks Bruegel's work is good, and hopes the Commission will read it. Danny heckles "depends who it will be!" with a smile.
1036 – Poul Nyrup Rasmussen is next up.
1035 – Neyts Uyttebroek seems to fall into the Woodrow Wilson trap – it's hard to speak coherently for five minutes. I'm not sure what her main point was.
1034 – ELDR had a 15 point essential manifesto, and the member parties did manage to pick this up. Liberal MEPs maintained their numbers, at times when liberalism was supposedly under threat. Secondly the ELDR parties agreed that the EU should keep to its commitments in terms of enlargement and neighbourhood as much as possible.
1033 – Likes the warning against 'zombification' of the European economy that is in the paper.
1032 – Neyts Uyttebroek happy that Bruegel is realistic about how the larger MS will behave in the world. Representation in international organisations will always be a mix of MS interests and EU-wide interests.
1030 – The institutions are rather 'fair weather' institutions. How will they behave under stress?
1029 – Complains that only 2 of the contributors to the paper are women. And Annemie is the only woman on the panel… All too typical of Brussels? Most of the crisis caused by white, middle aged men in dark suits. Not a coincidence?
1027 – Annemie Neyts Uyttebroek is the first panellist to speak after Sapir.
1025 – Theme (4) is regional and global policies, also about enlargement and neighbourhood. Trade, development and enlargement are strong at the moment in the EU. Neighbourhood policy, not always clear where it's going. Clear that on trade, conclude the DOHA round. Europe the largest importer and exporter in the world. EU countries the largest aid donor in the world.
1024 – New sources of growth is point (3) – knowledge and climate change control are the parts here, in the parts of the papers from Bruno von Pottelsbergh, R&D, higher education are vital. Also need a pro-growth approach to dealing with climate change.
1023 – Point (2) of Sapir – look at internal market for the longer term. What financial services system do we want to have for the longer term? What fairness, choices to be made.
1022 – Sapir talking of flexicurity, music to Rasmussen's ears no doubt.
1019 – Member States have an important role to play, but not at the expense of the EU. There are 4 sets of issues – (1) immediate post crisis management, coordination for exit, Veron has written about the banking sector, have to define the integrity of the internal market, preserve it, issue of employment, more unemployment in 2010, there will be calls for a European Social Dimension.

1017 – Sapir has 7 mins to summarise 12 memos! Not easy. Main message through the memos: we are in a time of crisis, although there is good news. But we have to put this in the broader long term challenges – climate change, ageing populations etc.
1015 – Pisani Ferry saying the Bruegel is not focussing on the politics of now, the problems of the personnel. Bruegel has 2 reasons to do this work – first that it's an important moment for Europe, a process of several months of the appointment, priorities are set. Secondly it's because of the financial crisis, and crises are defining moments, to determine the quality of institutions. How useful is a particular institution? Can the new Commission rise to the challenge?
1014 – Mario Monti here in the audience. Any role for him in the new Commission? Or is he too old?
1013 – We're starting up, without Brok
1011 – I think I'm the only man here not wearing a suit or a tie. The joy of being a blogger, eh?
1010 – No-one knows where Brok is. Maybe lost in the mess of roadworks outside on rue de la Loi?
1004 – I'm at Residence Palace for the launch of the Bruegel paper. The panel comprises Jean Pisani-Ferry and André Sapir (he's not on Wikipedia!)  from Bruegel, Elmar Brok from the EPP, Poul Nyrup Rasmussen from the PES, Annemie Neyts-Uyttebroeck from the Liberals and Danny Cohn Bendit from the Greens. The 100 page paper to be discussed is available here.