Following my previous posts about likely EPP and PES candidates for President of the European Commission, what about other candidates not from either of the main political forces? With no party likely to achieve an overall majority in the European Parliament after the 2014 elections, could a compromise candidate somehow win the day? Here are some names to get you thinking, although I think all of the names listed here are less likely than the politicians listed in the EPP and PES posts.
Liberals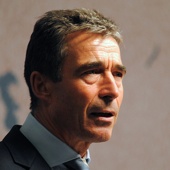 The third force in the European Parliament is the Alliance of Liberals and Democrats in Europe. From this party two strong characters could be in the running. Former Danish Prime Minister Anders Fogh Rasmussen [Wikipedia] is nearing the end of his time as Secretary General of NATO, but may be a better fit for another Brussels position (such as President of the European Council). Neelie Kroes [Wikipedia] is the only member of the current Commission who had a citizen campaign for her re-nomination, but does she have stomach for more political work, now aged over 70? Guy Verhofstadt [Wikipedia], leader of the ALDE Group in the European Parliament and former Belgian Prime Minister, would love to the Commission President, but I am not sure anyone else would love the prospect. Cecilia Malmström [Wikipedia] has been an effective member of the European Commission, and is determined and dynamic, but I suspect is not adequately well known to achieve the top job.
Greens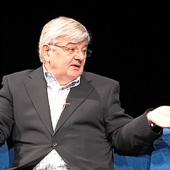 The European Greens will hold a primary to choose their two top EP candidates, and presumably one or other of those people would be a nominee to be Commission President too. The best known green at EU level – Daniel Cohn-Bendit [Wikipedia] has stated however that he wishes to retire from the EP in 2014. Cohn-Bendit's co-chair in the EP Rebecca Harms [Wikipedia], or her German colleague Reinhard Bütikofer [Wikipedia] who is chair of the European Greens Party, might be possibles. Could the best known Green of them all, former German Foreign Minister Joschka Fischer [Wikipedia] make a comeback?
Others
In the current European Commission, Kristalina Georgieva [Wikipedia] has been one of the most effective members, although she is not party political. Could there be a role for her as a compromise candidate somehow?
Image credits – all Creative Commons / Sharealike licensed
Anders Fogh Rasmussen by Chatham House | Joschka Fischer by das blaue Sofa