In a previous post I analysed the likely candidates from the centre left PES for Commission President. Here I examine who the centre right EPP might put forward. It is worth bearing in mind that the nomination process depends on the outcome of the European Parliament elections, according to Article 17.7 TEU: "Taking into account the elections to the European Parliament… the European Council shall propose to the EP a candidate for President of the Commission".
So who are the likely candidates?
Donald Tusk [Wikipedia]
Current role: Prime Minister of Poland
The normalisation of relations between Poland and the EU institutions in recent years owes a lot to the work of Donald Tusk and his centre-right administration. Angela Merkel is even reported to be favourable to the idea that Tusk could become President of the European Commission. Tusk has been Prime Minister since 2007, so now might be a good time to seek a move to Brussels. The poor quality of his English, and that Poland is not a Eurozone country, might count against him.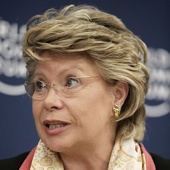 Viviane Reding [Wikipedia]
Current role: Vice President of the European Commission, and Commissioner for Justice, Fundamental Rights and Citizenship
Nationality: Luxembourg
There is nowhere else for Reding to go. Luxembourg is too big for her ego, and she has been a member of the Commission for three terms already. Issues such as mobile phone roaming charges, and efforts to get women on boards of companies in Europe show her political commitment. The question is while she is heavily rumoured in Brussels as a likely candidate, would anyone else actually want her? She is from a core Eurozone country, and knows the Brussels corridors of power well. However she is from a tiny country and has views that are not mainstream for the EPP.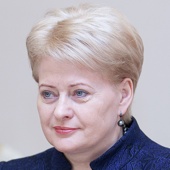 Dalia Grybauskaitė [Wikipedia]
Current role: President of Lithuania
The 'Iron Lady' of the politics of the New Member States, Grybauskaitė is a former member of the European Commission (2004-2009) who has since been President of her country. Lithuania will also hold the Presidency of the Council of the EU in the second half of 2013, increasing her profile further. Her nationality (from a non-Eurozone country) could count against her, but she would be a solid, reassuring and reliable candidate, with experience of the highest levels of EU decision making from the Member State and Commission perspectives.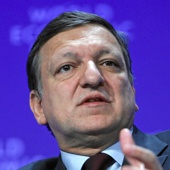 José Manuel Barroso [Wikipedia]
Current role: President of the European Commission
Nationality: Portuguese
What, Barroso, again? EU politics watchers collectively groaned when Barroso refused to rule out a third term as President of the Commission. The Portuguese would be a case of better the devil you know. Always keen to find favour with the large Member States, and himself not strong enough to really challenge them, there would be little enthusiasm for his re-nomination. The ongoing Dalli scandal may eventually put an end to his chances.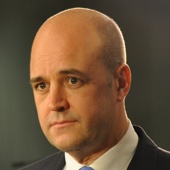 Fredrik Reinfeldt [Wikipedia]
Current role: Prime Minister of Sweden
Sweden's two-term Prime Minister has piloted his country through turbulent economic times relatively unscathed, but a 2014 election, and decreasing support for his coalition partners in his government, could mean the end of the road in national politics for him. He would be a good compromise candidate, and he is also one of the few allies of the UK. Sweden not being a member of the Eurozone would count against him.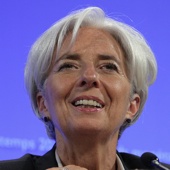 Christine Lagarde [Wikipedia]
Current role: Managing Director of the IMF
Nationality: French
A former Finance Minister in France, Lagarde has been at the IMF since 2011. She has considerable international experience, and national political experience, and comes from a core Eurozone country. She would have to end her IMF position after only 3 years to take up the job, but her calm assurance and determined manner might make her a viable candidate.
Outsiders
Jyrki Katainen (Prime Minister of Finland), Enda Kenny (Taoiseach of Ireland), Michel Barnier (European Commissioner for Internal Market and Services), Valdis Dombrovskis (Prime Minister of Latvia).
If I'm missing anyone please do suggest names in the comments. Please note that there will be an additional follow-up post about possible cross party compromise candidates, and a further post about the position of High Rep for EU Foreign Policy.
[UPDATE 11.5.2013, 1430]: Lagarde and Dombrovskis added thanks to suggestions from Twitter.
Image credits – all Creative Commons / Sharealike licensed
Donald Tusk by President of the European Council | Viviane Reding by World Economic Forum | Dalia Grybauskaitė by Saeima | José Manuel Barroso by World Economic Forum | Fredrik Reinfeldt by SWE EUPress | Christine Lagarde by World Bank Photo Collection