When I moved to Berlin in 2013 I needed to find a flat. I used a blog entry to help with my search, and wrote up my search experiences in the blog post "How To Find a Flat In Berlin" in January 2014. That post became one of the most read ever on my blog – plenty of people Google that sort of phrase. The comments below the post have been interesting too.
But times have changed – both for me personally and in the Berlin rental market – and it is now time to find a new place. So I am going to be repeating the 2013-2014 experience. This blog post explains what I am looking for, and once the process has concluded I will write up a whole new guide to finding a flat in Berlin, conscious of what has and has not changed since the first time I tried this.
So what am I looking for this time?
A flat for 2 people (a couple)
60 square metres or more, 2 or 3 rooms (I need a corner or small room for my work desk)
Rent up to 1400 Euro / month (warm)
Ideally a balcony or garden (ground floor flats welcome)
Move in date any time between 1st August 2020 and 15th October 2020
Anywhere in the areas circled on the map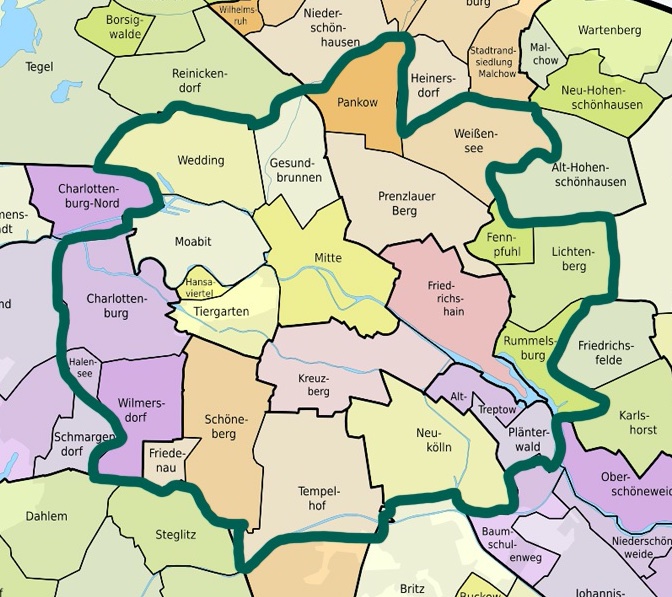 A different context…
I am conducting this search while COVID is still having a major impact on Berlin and how things work here – the situation is currently calm but abnormal, but with uncertainty over people's economic futures it feels like that casts a shadow over everything (although my own situation is, thankfully, pretty secure). Second, Berlin has approved the Mietdeckel law – essentially a 5 year plan to cap rents. This has been in force since the spring of 2020, but legal challenges are ongoing – pretty much any flat you find gives a if-the-Mietdeckel-is-legal price, and a if-the-Mietdeckel-is-ruled-illegal price – and the latter can be double the former, especially in the case of what the Berliners call Altbau (pre WWII buildings). While the idea of the Mietdeckel is fair enough – to try to put a lid on booming rents – it nevertheless seems to be causing uncertainty currently, as landlords do not know what rent they might get in the medium term. It also makes choosing between older buildings (where the Deckel applies) and new buildings (where it does not) rather complicated. Landlords are also more commonly offering time-limited contracts, and flats that are fully furnished (to avoid the Deckel) – seemingly as ways around this uncertainty.
Anyway, for now my search will continue, and I will continue to make notes and observations as I go. And if you have read this and know of a flat that's available for rent… you can contact me here!
Is there a diagram for that?
You bet!
Mostly for my own sake, I have made a Rental prices in Berlin diagram.
Version 1.0.0 – 3.7.2020, 1200
High res PNG | High res PDF | draw.io XML
(or click the image to enlarge)