? This blog post – and the guide "How to find a flat in Berlin" – are now over 6 years old. And I am now looking for a new flat in Berlin. You can read about that here. And a whole new guide will be written at the end of the process as well! ?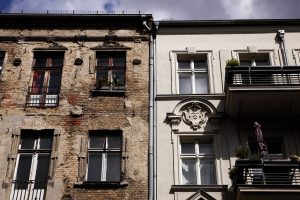 The days when it was easy to find a flat to rent in Berlin are long gone. While rent, in comparison to other EU capitals, remains reasonable, trying to find an adequate place is complicated. An additional annoyance is that estate agents charge the tenant in Germany (normally 2 months rent + VAT), rather this cost being borne initially by the landlord. Add this to the 3 months rent needed for a deposit and it is a hefty amount of cash up front.
So I wonder here whether social media can help? Masses of people knowing a little should be able to outwit an outdated market model where masses of money is made due to the asymmetric distribution of information.
Below I outline what sort of place I am looking for, and I hope via Twitter, this blog, and Facebook, I might be able to find something directly, rather than have to go through an agent. Your help would be most appreciated!
1) Location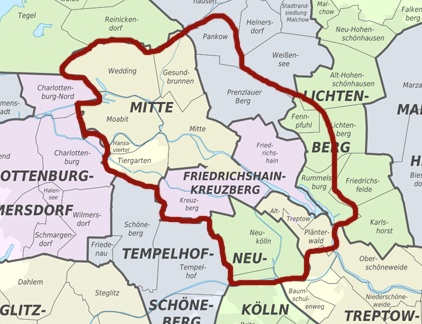 More or less anywhere central / east / north east Berlin. I am a cyclist, and hence do not need to be close to a U-Bahn or S-Bahn station. Something within about 5km of Unter den Linden would be super, to keep cycling distances manageable. This ideally means something within the red line on the map here – Mitte, Tiergarten, Wedding, Gesundbrunnen, Prenzlauer Berg, Pankow, Friedrichshain, Kreuzberg, Neukölln. Edges of Treptow and Lichtenberg could also be OK.
2) Flat size, features
2 rooms, and a built in kitchen (Einbauküche) are absolute musts. Ideal: a balcony, and hence not on the ground floor. Possible: furnished, safe parking for a bicycle.
3) Price, contract and availability
Up to €600 / month cold, €750 / month warm. Available from the start of January 2014 end of October*, or sometime shortly after that, and rent at least until Summer 2014. Sub-letting (untermieten) is OK, but I would need to be able to put my name on the doorbell.
So tweet me (@jonworth), comment below, or e-mail me if you know of something!
* – October was the original search. But I am now doing it all again in December 2013 / January 2014!