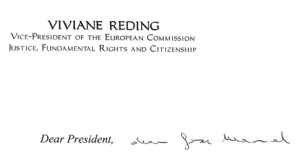 Via Twitter I came across this post in French by Michael Malherbe about a letter sent from Commissioner responsible for Communications, Viviane Reding, to Commission President Barroso. Euractiv managed to get hold of a copy of the letter that contains 14 points about how communications are to be improved. The irony is that it looks like a scan of a letter sent on paper to Barroso. So much for modern internal comms in the Commission!
But what's actually in the 14 points?
Michael's post looks at all the points, while I will instead focus on the 2 short points dedicated to web communications:
5. Websites of the President and Commissioners

A dedicated team of 8 persons has been set up in DG COMM to keep your website and that of fellow Commissioners up-to-date in real time (following the best practice already installed by me at DG INFSO during the previous mandate). The team forsees a permanence ensuring a 24 hour service. Furthermore the websites of all Commissioners are now harmonised following a common template developed by DG COMM.

10. Monitoring of blogs and social networking sites and instant rebuttal

Automated blog monitoring is now available via the new EMM "European Blog Monitoring" tool on the MyIntracomm News Portal. Users can subscribe to e-mail alerts based on key words. Fast and effective rebuttal is organised by the SPP with the help of the responsible services. In addition, I have asked DG COMM to set up a network of 10-15 social media experts across the Commission to ensure a targeted use of social media (such as Facebook or Twitter) for the Commission's communications purposes.
First of all the tone of these points is very defensive – it's as if the Commission feels its web communications are under attack.
On point 5 – round the clock updates of Commissioners' websites? Really? It's not as if Ollie Rehn or Janusz Lewandowski ever has that much of interest to say, let alone at 3.22am on a Sunday morning! The problem with the comms of Commissioners on the web is that too few of them show any sort of human face and are proactive in their own web comms (Potočnik and Cioloş are the notable exceptions). Strikes me that this point is Reding – with her journalist background – taking a mainstream media approach to the web.
Point 10 is more serious however. Monitoring of social media is all very well – loads of companies do it – but monitoring without engagement is a complete waste of time. Look at what happened to Domino's Pizza, Eurostar and numerous others – I'm sure these firms were aware of the storm of protest that was engulfing them, but had no active presence in social media that would allow a coherent and trustworthy response – and quickly. Social media is two way – it's a conversation, it's about listening and broadcasting. Reding's paragraph seems to completely ignore this. As for whether the Commission needs to develop its own portal for blogs and what sounds like its own version of Google Alerts is an open question. Anyway, happy reading to anyone who reads this through the catchily named MyIntracomm News Portal!
In short this document seems to confirm all us EU web nerds have suspected about Reding. She's obsessed by traditional media, doesn't really understand the web, and that with her in charge of comms things are going to take a step back in comparison to Wallström.