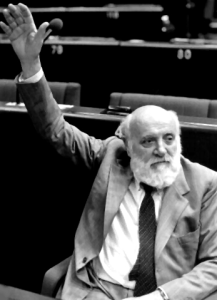 What do you do when one of the fundamental things you've believed in for years, have spent ages working towards, is actually not anywhere near as desirable as you previously thought?
That's basically the predicament I find myself in these days, and it's not a very pleasant place to be.
The old federalist argument, repeated ad infinitum at Ventotene, drawing on Spinelli's manifesto, is that the nation state is broken and only supranational democratic structures in Europe (a European federation) can fix it.
That's all very well if your systems of representative democracy work OK, but what if they don't? What if political parties are tired and hollowed out, and beholden to narrow interests and are in awe of the power of the markets? With election turnouts decreasing? With messy multi-party compromises, and leaders ready to ditch the few principles they once had? Why should we expect leadership to be any more enlightened at EU level than is the case nationally just now?
Make the EU a representative democracy in the classical sense (government contingent on a majority in parliament, executive proposes legislation that the legislature approves and amends, parties run in elections etc.) tomorrow, and we're just going to replicate all the disfunction on a continent wide scale.
But – conversely – the alternatives are worse. We cannot rely on the illegitimate technocracy of the past that has lacked citizen involvement and democratic control. Equally direct democracy is not the answer, as I am yet to see a fair and partial referendum campaign. And – with the world faced with an economic crisis and the impending damage of runaway climate change – it's not as if we don't need political solutions to our many problems, and with so many of these being cross-border in nature, it's not as if we can do away with the supranational institutions we have.
Where, please, out of any of this, is there any small sliver of optimism?