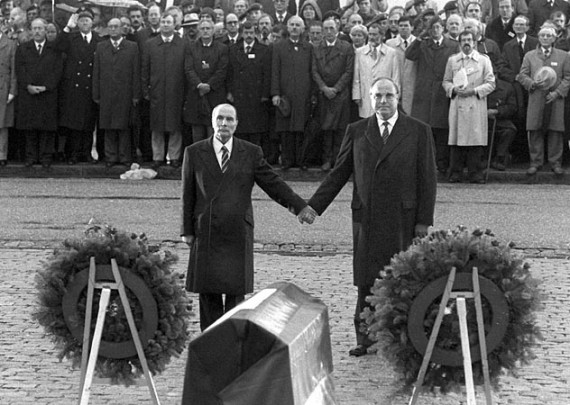 Political leaders in the EU are incapable of leading us out of the current multiple crises we face. I think that's generally understood. But what we've been incapable of explaining is why is leadership in such a bad way? Where is our Adenauer, Kohl or Delors when we need them?
First of all, our political context is markedly different from forty or even twenty years ago. The threat of war in Europe is no longer real, and the ending of the Cold War means the west has no convenient enemy any longer. The end of the Cold War also means capitalism won. The problems are more diffuse, longer term, more complicated, and harder to use to focus minds.
Then there is the changing nature of our political systems. The more politicians know, the more they follow. So daily polling and focus groups on anything and everything are used as a reason for not acting – it's important to do what's popular, not what's right. Add to that the influence of 24 hour news with studios to fill, and the internet and social media, and proposals are picked over and taken apart before they have even been debated by parliaments. The leaders of the past – Kohl for example – would never have succeeded in modern politics. He would have been too brutish and fat for our current political culture. Yet we do not yet have any convincing leaders of the networked era – even Obama who used the net to get elected has been unable to effectively govern.
Our political parties are also sick, and good people arguably do not join parties, and if they do, they don't lead them because their will to do so is killed off before then. Poor people and those that are ideologically flexible are instead understandably promoted – in the EU Günter Oettinger and Olli Rehn are cases in point. Better someone weak who will not cause offence than a dangerous but brilliant maverick.
The breakdown of traditional left-right ideology (partly due to the post-Cold War effect) has led to a multitude of parties, and by definition it is harder for complicated coalitions to take tough or long-term decisions. Even in countries like the UK or Spain without this multitude, declining turnout and extra-parliamentary movements pose a valid challenge to the status quo. I'm not quite as pessimistic as the outcomes of Bawn et al's paper, but I'm getting there.
Throw into this the sheer complexity of our interdependent, multi-level, partially globalised political systems, and the battle of markets versus politics, with the latter seen to be subservient to the former. Then add a dose of ageing population, and scandals among political elites over the years and, hey presto, we are where we are…
Any way out of this?