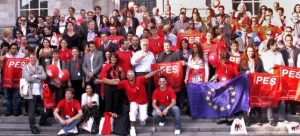 What should the Party of European Socialists do in 2014 to avoid a repeat of 2009's disastrous European Parliament election results, and the mess over the dithering prior to 2009 that resulted in the PES not selecting a candidate to be Commission President?
While Martin Schulz and the Socialist Group in the EP have not been asking himself this sort of question, it has not stopped some enterprising PES activists, led by Desmond O'Toole in Dublin, from raising the issue of a PES Primary. You can also join the Facebook Group here.
So what's the basic idea?
Essentially the PES should select a candidate for President of the European Commission, and the members of the PES parties – in a one member, one vote postal ballot – would get to decide who that person should be. If the PES parties then were the largest group in the European Parliament after the 2014 elections that individual would be nominate to be Commission President. Simple, straightforward, accountable… and if the PES did it then other parties would surely follow? Also within the PES it would eliminate the dithering and horse trading we've seen in the past when it comes to whether to nominate a candidate for Commission President or not.
The chances the member parties of the PES are going to back this are slim to none, and the costs of the ballot would surely be considerable, but it's vital that this issue is debated and discussed and – with luck – eventually it will happen.