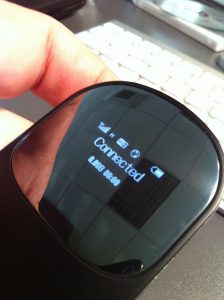 Working all over the EU as I do is more or less only possible thanks to mobile internet – I have 3G and tethering on my iPhone when in Denmark (notionally home), and 3G data sim cards for a Huawei Mifi in the UK, Belgium, Germany and Austria. Now of course there are some contraints to 3G anyway – it is not especially good in rural areas, or when on a fast-moving train, and it's maximum data rate is limited. But for general, everyday e-mail and web browsing it's perfectly usable.
Only not in Brussels any more.
In Belgium my 3G is with Jim Mobile, a part of the BASE network. Coverage on BASE around the EU institutions where I most often work was always patchy – either no signal, or a decent connection that worked. Yet for the last 6 months, and notably in the last month, the data speed has plunged, even in areas with a full 3G or HSDPA signal. Today websites would not load at all at Schuman, Place Jourdan or Place Flagey. Signal strength showed as 2 out or 5 bars at Schuman, and 5 out of 5 in Jourdan and Flagey.
What the hell is going on?
Both Ryan Heath and Andy Carling have told me about the problems mobile phone firms have had getting approval for 4G masts in Brussels, but I was unaware that the same 3V/m standard that prevents 4G rollout is now having an impact on 2G and 3G networks too, as detailed on BASE's blog here (Sept 2012) and here (April 2013). The situation is so severe that even BECI (Brussels Enterprises Commerce and Industry) has got involved in the issue. Interestingly indoor sites – including the Brussels Metro – have longer to comply… and in the Metro is more or less the only place I can actually get a 3G connection!
BASE says it simply cannot find the locations to add the extra masts it needs to maintain its coverage, and with any political decision to solve the issue in Brussels kicked until 2014, and with data use doubling each year, this issue is going to get a whole lot worse before it gets better. And all this in the city that hosts the EU institutions that are trying to legislate to improve broadband speeds… Do the Brussels politicians who have forced the 3V/m standard just never use smartphones I wonder?