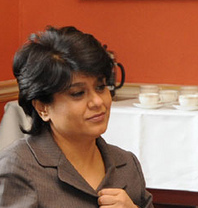 There were a few messages on Twitter and a lengthy post from ResEuropa about the prospect of Baroness Shriti Vadera being appointed as the British member of the European Commission this autumn. The story stems from this article in The Times.
Firstly, let me set the record straight from the article: "The appointment would require David Cameron to co-operate with one of Mr Brown's most controversial ministers if the Tories win the next election" – well, yes, but the appointment of the Commissioner is in Brown's hands, so whoever he appoints might have to deal with Cameron. Look at Wallström – she's been dealing with Reinfeldt since 2006. "If he becomes convinced that he is more likely to win for Britain the coveted position of Competition Commissioner by nominating Lady Vadera, he will not hesitate to propose his former aide, officials believe" – that must be considered highly unlikely. Neelie Kroes, a liberal free marketeer, has held the competition portfolio, and I simply cannot see France or Germany accepting a Brit in that position now, someone who would pursue the same sort of line as Kroes.
But would Vadera – in whatever position – actually be any good?
As a starting point Vadera is probably a better bet than Baroness Ashton, the current incumbent. Vadera is a close ally of Brown's, has undoubted intellect, and I cannot imagine her being as low-key as Ashton. There's of course the lingering legal question of whether a member of the House of Lords legally should be able to become a Commissioner…
Secondly, as with Ashton, Brown would not need to hold a by-election, so in UK political tactical terms, the appointment of Vadera would be good for him.
Thirdly, the appointment of a woman from an ethnic minority would be good for the diversity of the European Commission, a body typically filled with grey suited old men.
But – and there had to be a but – I am still very far from convinced by the appointment. Vadera has a fearsome reputation in Whitehall, and although I have never personally met her, there are people who refer to her as shitty Vadera due to her harsh style and ability to make people cry in meetings.
Further, while being one of the Brown clan might mean she has ways into the top of government, the Gordon clique-of-brutes style of leadership categorically does not work in Brussels. A smooth, understated, networking style works best in the corridors of the Berlaymont, a style that even Mandelson failed to master. Could Vadera accomplish this? Somehow I doubt it…
But of course an individual's ability to do a good job doesn't really come into it, does it.