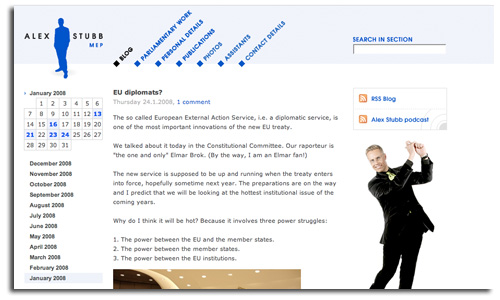 Sometimes you come across something that sets all of what you've been writing in stark relief. I regularly lament the standard of the UK's representation in the EP. So my jaw dropped when I came across the website of Finnish EPP MEP Alexander Stubb – how the hell does he do it? The site is in five languages and it's regularly updated at least in Finnish and English. He writes articles for the Finnair in-flight magazine, and he's gracious enough to even make his assistants part of Project Stubb on his website. He's even managed plenty of intellectual work about the EU as well.
What UK MEPs even come close? Quite frankly what UK political party would dare go near someone as confident as Stubb? OK, so there are downsides – he's from the EPP, the photos he uses on the site are not really my style, and he claims to be an Elmar Brok fan (Brok's politics are often alright, but Brok has always struck me as rather a bully) – but Stubb really is an example of how to use the European Parliament as a platform and to build an excellent reputation.
As anyone who regularly reads this blog knows I'm never one to dish out excessive compliments, so this commendation of Stubb's website is praise indeed. Prospective candidates: look and learn.