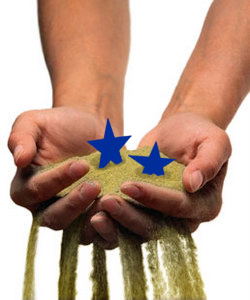 I've been a Labour Party member since 1996 – I joined before I could even vote – and EU politics is my major interest. I've worked on all kinds of EU matters for a decade and I'm 27 now and I've done my fair share of different things in the party too, from delivering leaflets to running internet campaigns. So what next? I must admit that when I received the Labour Party e-mail a couple of weeks ago asking for people to put themselves forward for the European Parliament lists I was very tempted. But reflecting more on the issue I've come to the conclusion that it's not the right thing to do at present.
Firstly, the way Labour selects its MEPs is organised so as to favour the sitting MEPs, who face a trigger ballot to knock them off their places on the list – and none have been deselected. So all of Labour's 19 MEPs will be odds-on to be returned again. As all of Labour's MEPs have been in the EP for such a damned long time, the chances of any of them running keen and dynamic campaigns at the top of their lists in 2009 is basically out of the question – their jobs are safe, so why worry? If I did put my name forward I would not be in a winnable position on the list anyway, but that would not be a problem if the campaigns were at least optimistic. Plus if the EP elections are before a general election what hope for Labour anyway?
Secondly, my motivations to want to run to be a MEP are probably all wrong. I care a lot about EU politics, I want to enthuse Labour Party people (and the British population in general) about the EU, I think I'm a reasonable communicator, and because I understand how the EU institutions work I think I could do a decent job. Plus I have no intention of running for anything locally or nationally. I have however been known to campaign for federalism, and this blog demonstrates a freedom of thought and expression that would surely grate with the party.
Third, I'm known in Labour Party circles as a computer geek – I'm the person that sorts out the websites and fixes the IT networks. So would anyone think I would be any good doing political work? I could also be deluding myself. Related to this is the question of a mentor of sorts – who is there that I know in the Labour Party that has in any way 'made it' and I could count on for advice?
So here I sit, thinking of Labour's MEPs in the European Parliament and how I wish they could do a better job, and how I have some forlorn hope that I might one day join them. But the sand has slipped through my fingers this time at least. I wish all the candidates for 2009 the very best; I'll be out on the doorstep as ever.
[UPDATE – 4.12.07]
Seems I spoke too soon. In the days after the nominations closed, Gary Titley – leader of the EPLP – has announced he's not running again in 2009. I had no idea this was on the cards. Why did he do it after the nominations had closed? I just hope more follow!
[UPDATE – 15.12.07]
And so it goes on… Now Glenys Kinnock has stated she will not continue to be a MEP beyond 2009. Why was it impossible for these people to announce these things before nominations closed?