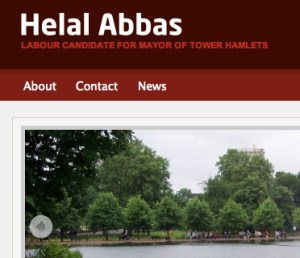 Since mid-September I've been a resident of Tower Hamlets, Bethnal Green & Bow constituency to be precise. I'm still trying to work out what's going on there, and how I might do something in the local Labour Party. I'm hence not in a position to be able to comment on the relative merits of the candidacies Lutfur Rahman or Helal Abbas for Mayor of Tower Hamlets – others such as Dave Hill or Adam Bienkov are better placed to do that.
But what I do know is any candidate running for an important office needs a website.
Helal Abbas, the official Labour candidate, had no site at all, and just a Gmail address for his campaign. During the campaign if you Googled for him you received advertising from Neil King, the Tory candidate!
So, rather foolishly, I set about putting this right. I was spurred into action when I received a voicemail message from the Abbas campaign, asking me to come canvassing. Forget it! An hour of my time making a website for Abbas is a much better use of my skills than an hour leafletting. So build a website I did (partial screenshot above, helalabbas.org.uk registered by me at my own costs). I mailed the campaign HQ, London Labour Party, and was also given a few contacts in the campaign office… and then nothing in return from any of them. So the website, ready to be used, remained 'under construction'.
In addition to all the questions about the selection, Labour also needs to ask itself some questions about the campaign – to not have a website for a candidate, even when a Labour member who is a web designer has built you one, is ludicrous, and demonstrates that Abbas was simply not a viable candidate.