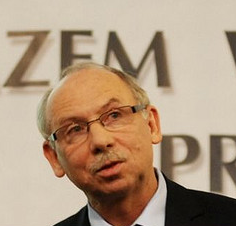 Budget Commissioner, Janusz Lewandowski, has said he will present some options next month for how direct EU taxes could work. The story is covered by the BBC. Cue a load of instant complains, howls of derision etc., particularly from Brits.
Wait a moment.
Think of what the EU does and how it is paid for. Roughly 40% of the EU budget is spent on agriculture, and the same amount on funding for the EU's poorer regions (structural funds). The game played each year by the Commission and Parliament is to demand more money from the Member States, who then fend off the requests to bring the budget back down the roughly the same percentage of GNI as the previous year.
In short the way the EU budget works builds statsis into the system, and pits the EU institutions against the Member States. This is no good for anyone, least of all Europe's tax payers as a load of cash is still wasted on CAP.
The issue to make EU taxation would be to ensure that taxation and representation run together – i.e. parties can put forward different taxation plans before European Parliament elections, and then have the power to put those into practice if they can command a majority in the European Parliament. This should be coupled with a constitutionally set maximum percentage of GNI allocated to the European level – perhaps the 1.24% of GNI currently in place. So, in short, you couple taxation with representation, and you bind the EU institutions to not spend excessively.
In addition there are some things that would have to be taxed supra nationally were they to work – taxation on aeroplane fuel (kerosene) for example. It's unjust that petrol and diesel for road transport is taxed, yet kerosene is not. But if one EU state were to levy a kerosene tax then you make the environmental problem of air travel worse, as planes would refuel where it was cheapest (wherever practical) and fly heavier.
Now I have no idea what the Commission is going to come up with, and I would be astounded if it came close to meeting the principles I have outlined here. But – under the right circumstances – EU taxation is actually a good idea.