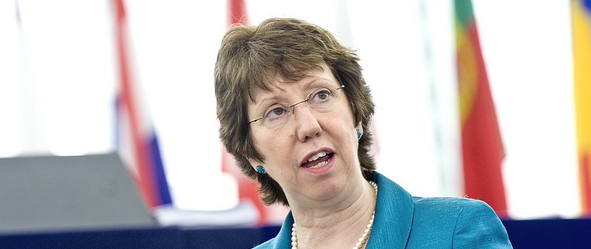 I stand accused of being a negative, complaining blogger.
I have not been a fan of Cathy Ashton's work as the EU's High Rep, wrote that she should go as early as January, have analysed her current predicament, and have even raised a few smiles at her expense.
While Ashton's position might be weak and called into question in Brussels, the means to remove her – unless she resigns of her own accord – are very complicated, and would need more political capital from the European Parliament than MEPs look like they are ready to muster. Even if she were removed, the process of working out how to replace her would be a major headache.
So the likelihood is that she stays. So what should she actually do? How about some positive solutions?
First of all there needs to be some honesty from Ashton, ideally presented in a set-piece speech. She needs to publicly acknowledge that there are very major challenges to overcome – politically and organisationally – in European Foreign Policy. Her current approach of continually making vague yet positive statements needs to end immediately, for it is looking more ridiculous with every passing week.
Second, Ashton needs to ask for a pause of at least 6 months during which her focus must uniquely be on the administrative side of the functioning of the EEAS. The process to take basic decisions needs to be streamlined and improved, and she needs to seek some leniency from the Member States and the Commission to get the EEAS in order at an administrative level. She need not travel the world, nor make a statement on everything and anything during this period.
Third she needs to work out who she trusts, and put at least some of those people in her cabinet. As an old friend recently said to me, "Ashton, unlike people like Bildt, Stubb or even Hague hasn't spent long nights over years and years contemplating the intricacies of foreign policy." She hence needs to surround herself by plenty of people that have, and to trust these people and to delegate to them. This might ruffle a few feathers in national capitals who may end up not represented in her inner circle, but so be it.
Relating to the third point, Ashton needs to address the low morale and staffing disorder that currently reigns inside the EEAS. Basic systems – HR, document management, security – still do not function well enough, and while these problems dog the everyday lives of civil servants the EEAS is never going to be a success. From the top Ashton needs to foster a 'we're all in this together' sort of approach.
Fourth, Ashton needs to get her communications in order, by employing a decent speechwriter, and by improving the web communications of the EEAS. Some attention to her body language, and a more sober and authoritative dress sense would also be welcome.
Fifth, her timekeeping needs to improve – an unfortunate reputation of turning up late is now well known. Of course circumstances change, but contingency plans need to be made for every eventuality or delay, and for this trust in close staff (my third point) is vital. The accusation has also been levelled at Ashton that she simply is not in Brussels enough, and not often present in the College of Commissioners. While work-life balance is important, even for Europe's foreign minister, moving her family to Brussels might help matters.
So there, in short, is a recipe for her to improve her approach: honesty, administrative competence, staff trust, communications and time.