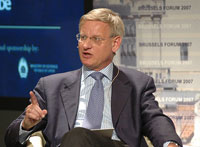 If the second referendum in Ireland on the Treaty of Lisbon this autumn goes yes then the EU is going to have a new foreign policy chief from 2010. The Treaty of Lisbon creates the position of High Representative of the Union for Foreign Affairs and Security Policy, aka EU Foreign Minister, merging the current positions of High Representative for CFSP and External Relations Commissioner. So who is going to be in the running?
If it were only to be judged by the amount he puts himself about then Carl Bildt, Swedish Foreign Minister, would probably be a runner. He's also in the limelight as Sweden currently has the rotating Presidency of the Council. Foreign Policy has a profile of Bildt, and the FT Brussels Blog has more on the power games about the appointment. Essentially the argument goes that Bildt is too outspoken to get the job – people are wary of him because he's not an in-the-shadows character like Javier Solana. I'm no fan of Bildt from his record as Swedish PM but his experience in foreign affairs is vast and in a Europe controlled by right wing parties then better have a strong and knowledgeable person in the position than a dull technocrat.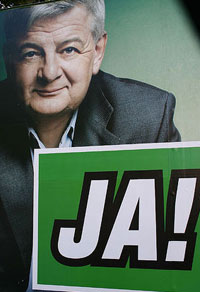 The outstanding foreign affairs figure on the left who would make an excellent EU Foreign Minister would be former German Foreign Minister Joschka Fischer. He's been lacking a role since the end of Schröder's red-green coalition yet, like Bildt, he's a pugnacious and knowledgeable individual, someone who would be capable of giving the EU a real voice in foreign affairs.
So what hope that either of these individuals get appointed? Close to zero. Member states would sooner go for some dull technocrat as that makes their lives easy. There's no way for public pressure to change it (a bloggers' campaign for Bildt anyone? Not from me anyway) so don't hold your breath waiting for a new and coherent EU foreign policy.