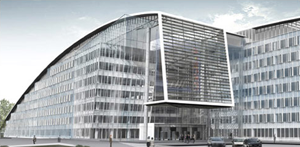 On the northern side of the dual carriageway leading from Brussels towards Zaventem Airport there's an enormous no-mans land. A billboard resplendent with an artist's impression dotted with light, glass and smiling people announces this is to be the site of the new NATO Headquarters, due to be opening in 2012.
Rather optimistic one would have thought – there is no way the builiding is going to be constructed without the concrete barriers, razor wire and general security paranoia that dominates the approach to the current HQ on the other side of the road. Perhaps rather presumptuous also. What is the point of NATO presently?
NATO membership questions have been rumbling behind the scenes regarding the current conflict in Georgia. If a membership action plan had been offered to Georgia would we be where we are now with the conflict? Michael Williams, writing in The Guardian, lays the blame squarely with France and Germany for not having given Georgia a route towards entry. If Georgia were a member and was attacked then other NATO members would be bound to come to Georgia's defence – 'an armed attack against one or more of them […] shall be considered an attack against them all'.
But it's never going to get to that stage. The USA can have a whinge that European countries are not paying enough attention to Russia, and that the EU is divided on its approach, but at the same time the USA is trying its own divide and rule tactics with EU countries over visas. Plus the USA is not dependent on Russian gas in the way much of Europe is.
Most importantly we are not in the middle of the Cold War – there's no ideological reason for intervention, and there's absolutely no stomach for intervention in the conflict in Georgia among the populations of European countries and the USA, prospect of NATO membership or not.
As for my position about the conflict, well that's starting to change. When I wrote my previous post it looked like the conflict was limited to South Ossetia. That has changed for sure. Saakashvili seems to have been headstrong, but the Russian approach has been disproportionate – it was not to re-establish the pre-conflict position, but to push on well into Georgia. I wonder how the world's leaders will react to that. With a shrug and a whimper I suppose.