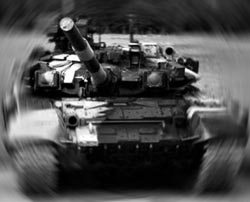 Thousands of words have been written about the conflict in South Ossetia in the last few days and the answer tends to depend on whose side you're on – do you reckon Vladimir Putin is an evil land-grabbing neo-tsar, or do you think Mikheil Saakashvili is an unpredictable and unreliable leader who made a dangerous gamble to reclaim South Ossetia?
If you're anti-Russia Edwards Lucas in The Times gives nuance to your case, if you're a Saakashvili-sceptic then Thomas de Waal in The Guardian explains further.
So what can anyone do about this? Anyone who doesn't want war – bloggers like me, commentators, foreign ministers everywhere, Nicolas Sarkozy, the EU, the OSCE – throws up their hands and says 'STOP FIGHTING!' but then… Then what? What can anyone actually do? No-one has the remotest intention of sending any troops to Georgia to back Saakashvili, no-one (least of all Germany) wants to utter a word of criticism against Russia, and plenty of people are ambivalent about the region as a whole.
You end up getting a whole lot of comment about right and wrong, the values of the respective leaders, good and evil. But all of this is just a messy shade of grey, a conflict that will be played out in front of the eyes of the world with no-one ready to act – because no-one seems to know what to do.