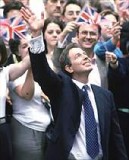 Tony Blair has been in California for the last couple of days, and gave a speech to News Corporation (Rupert Murdoch's media firm) during his visit. Quite apart from the moral issue of whether Blair should be speaking to News Corp in the first place, his speech was both scary and bizarre. The most quoted line of the speech was:
But on policy the cross-dressing is rampant and is a feature of modern politics that will stay. The era of tribal political leadership is over.
So what's the lead story on the Labour Party website today? Why Cameron is doomed to fail as leader of the Conservatives – read it here. Tribal? Surely not.
Blair also states that the traditional welfare state simply cannot cope in a modern world. As Neal Lawson points out in this reply in the Guardian, Sweden and others seem to manage that quite admirably. He also says that leaders should get on and lead. After having read Lance Price's book (see previous post), I wonder how often Blair actually does this? His leadership has been severely limited by Iraq and the ongoing sagas with Gordon Brown.
On a positive note, Blair did sign a memorandum on climate change with Arnold Schwarzenegger who is becoming frustrated that the US federal government is ignoring the dangers of climate change. Details of that story here.