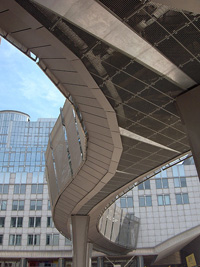 Adriaan Schout and Jeroen van Dijken wrote a column last week in Dutch daily de Volkskrant entitled EU kan goed zonder Europees Parlement – essentially that the EU could do OK without the European Parliament. I picked up on the story via euro|topics.
The whole line of the column, as far as I can determine, is that the European Parliament is essentially useless if national parliaments took their job in scrutinising EU legislation seriously.
For a whole bunch of different reasons this is the wrong approach.
Firstly, national parliaments are rubbish at using the powers they currently have to hold ministers to account before they go off to meetings of the Council of the European Union. Only Denmark and Finland come close to having reasonable systems of parliamentary scrutiny; the EU, ironically, relies to a great extent on the unelected House of Lords to do the task the Commons cannot be bothered to do.
This leads to the second point: what incentive do national parliaments have to improve their scrutiny of EU legislation? Basically none as far as I can tell. National politicians don't win their seats on the basis of checking whether the market for widgets functions at European level.
Thirdly, is it even right, in governmental terms, that national politicians should determine the conduct of EU affairs? I think all of Europe's populations are grown up enough to understand – broadly – that different problems are solved at different levels, and each of those levels needs democratic accountability. I don't think that the Tweede Kamer should be uniquely composed of local councillors from towns in the Netherlands, yet that's the logical equivalent of what they propose at the European level.
Now don't get me wrong: there are a whole bunch of problems with the way the European Parliament works: opaque party system, the EP cannot determine the President of the Commission, dull debates, dull election campaigns etc. but the Dutch obsession with national parliaments as a way to solve these problems is not the way forward.