I've been wondering for the past 24 hours what I ought to do, personally, to help with the Coronavirus response – in my building, my neighbourhood, my city, more widely. I'm healthy and have some skills, but I am not a medical professional. While I might ultimately do other things as well, I have come to the conclusion that helping communities coordinate their local response is probably the best I can do. I'll use the example of my own situation, and scale my idea from there, and then come to the tech specification below.
I live in a building with about 40 flats in it in Kreuzberg in Berlin. There are a bunch of neighbouring buildings, totalling 500 or so units. In my building there are – in Coronavirus terms – three types of people: high risk (people over 70, people with underlying health conditions), likely transmitters (families with children), and everyone else (healthy, no children – I am one of those). At the moment in Berlin all of these people can still go shopping and mix with each other, but that is also likely to end within the next few days.
With that in mind, how do we – at that scale of a building or small neighbourhood – best practice physical distancing?
The objective must be to keep two of the three groups – the high risk, and the likely transmitters – self isolated. And to use everyone else to provide those people with what they need.
So we need a system to make sure they get what they need, and – if this is done on a small enough scale – there ought to be enough social capital to mean it can be done based on trust.
There are sites and groups that are operating more widely – like Quarantäne Helden or Corona Help Team Berlin – that suffer from a scale and coordination problem. Even if you could match volunteer to need Berlin-wide, actually organising the individual activities is going to result in a lot of manual messaging back and forth, and assigning tasks is going to be mighty complex.
So here is a proposal for a tech solution that can be locally implemented, has a clear rationale, and a simple purpose. For now I will call it "Shop for me" – and it would be developed as a WordPress Plugin. It would be a system to coordinate shopping for food and other everyday necessities, designed for the scale of a building or a small neighbourhood. There would be two types of uses in the system – those that need shopping done for them, and those that can do the shopping.
This illustrates the problems with the current models, and how Shop For Me would work differently: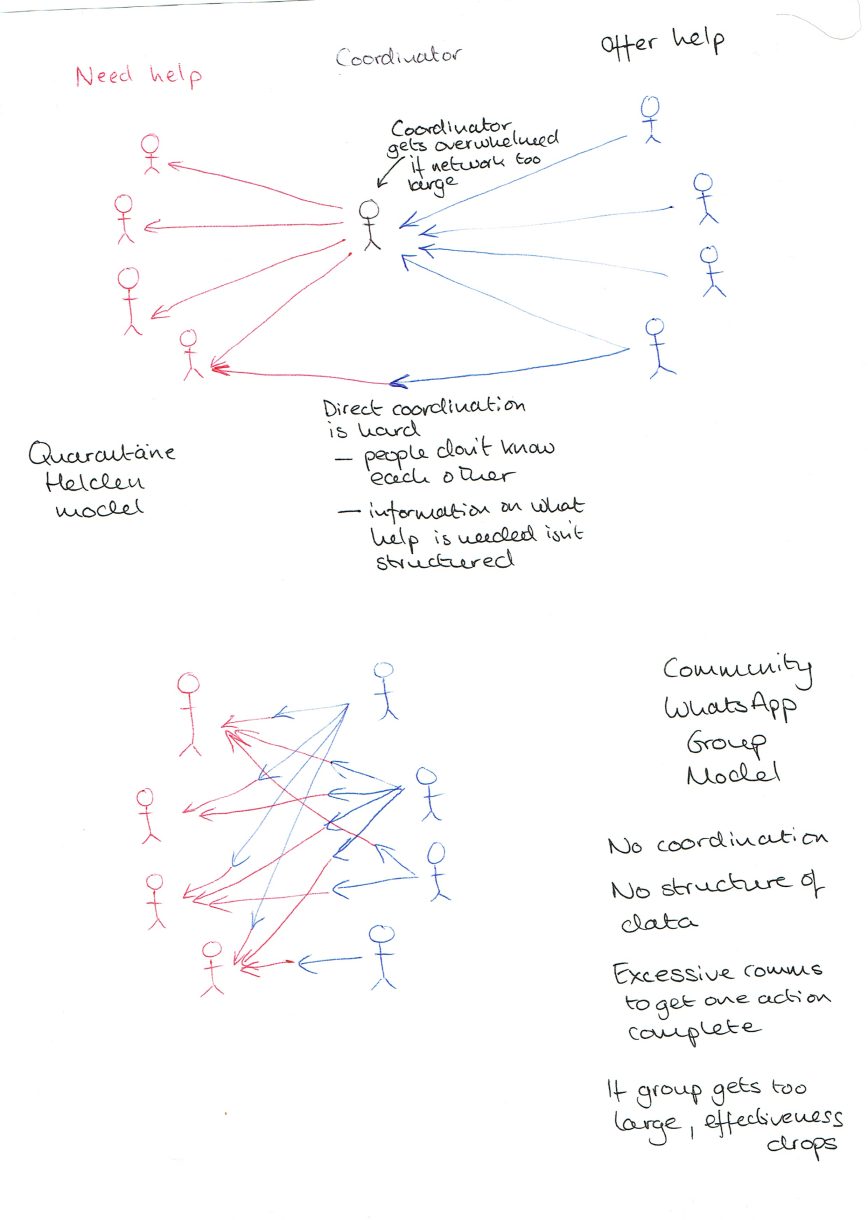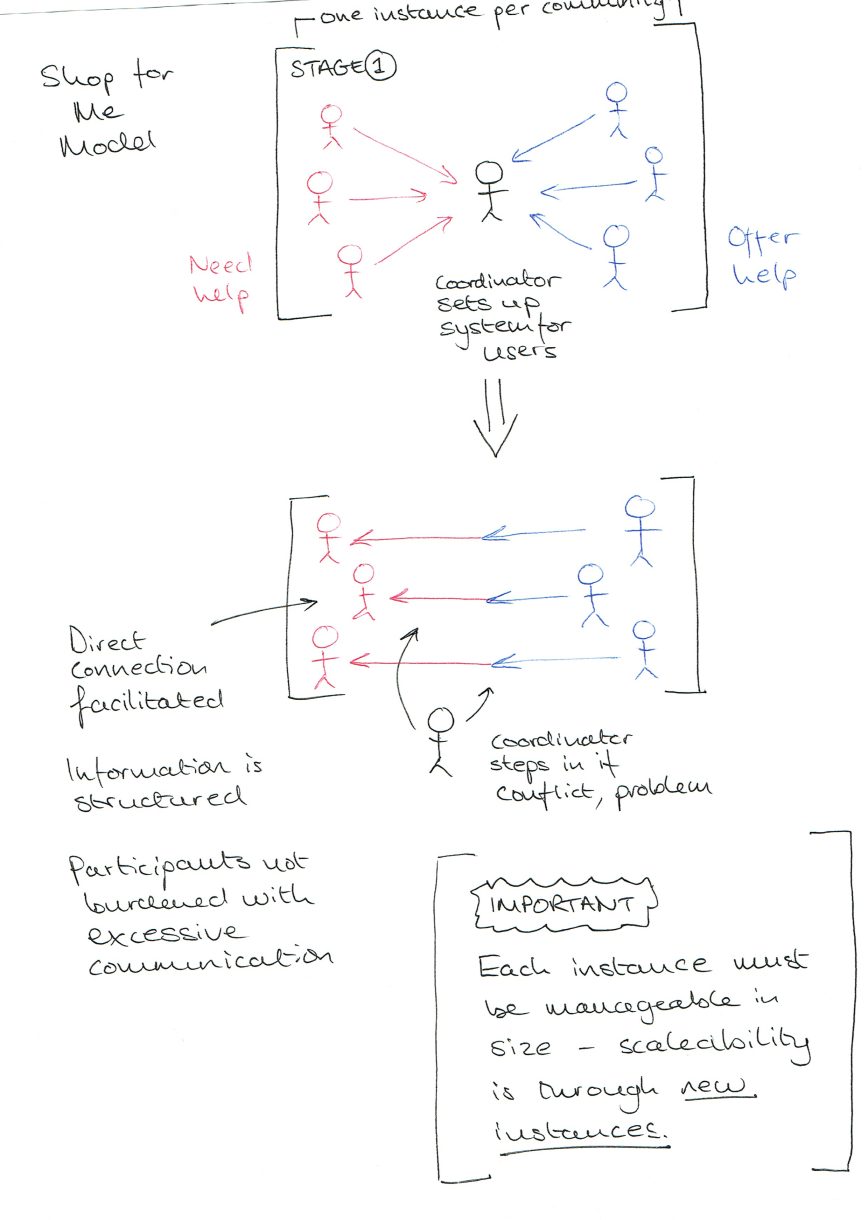 Here's how it would (roughly) look: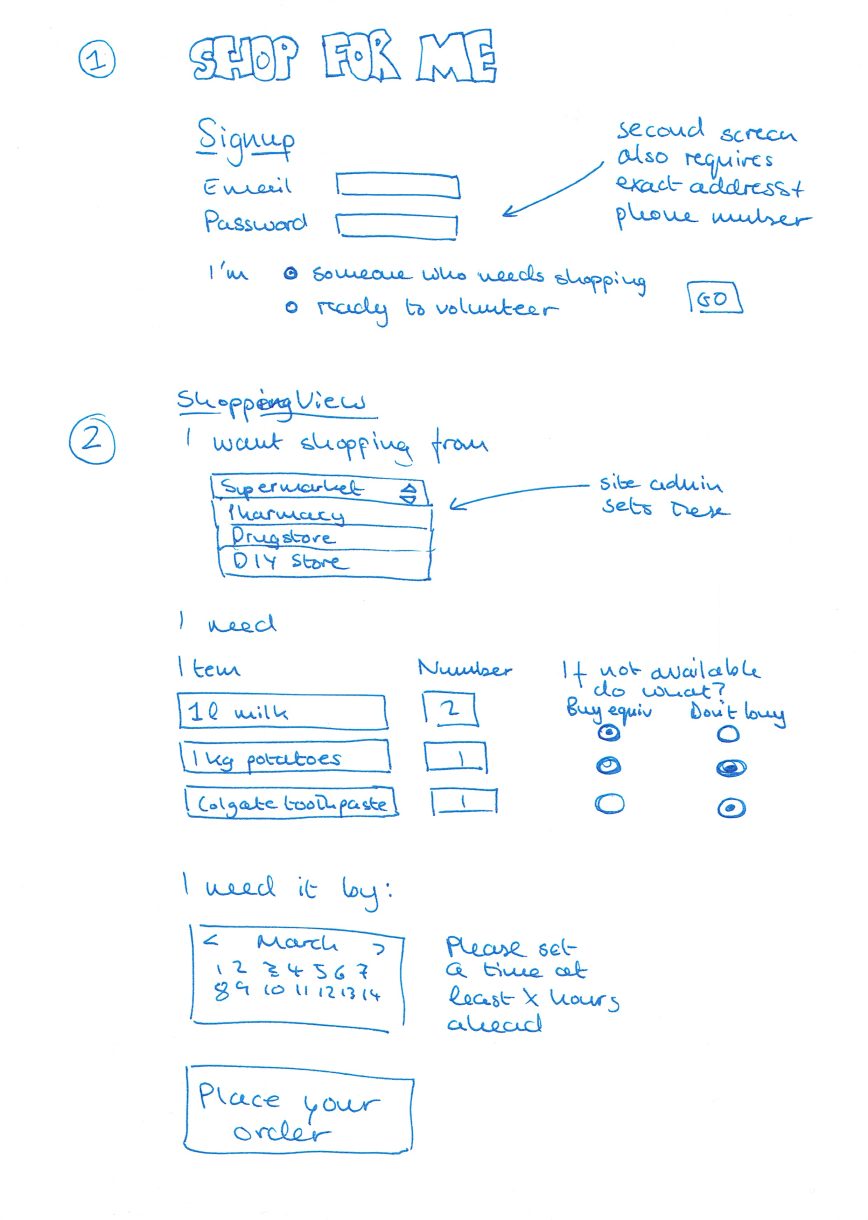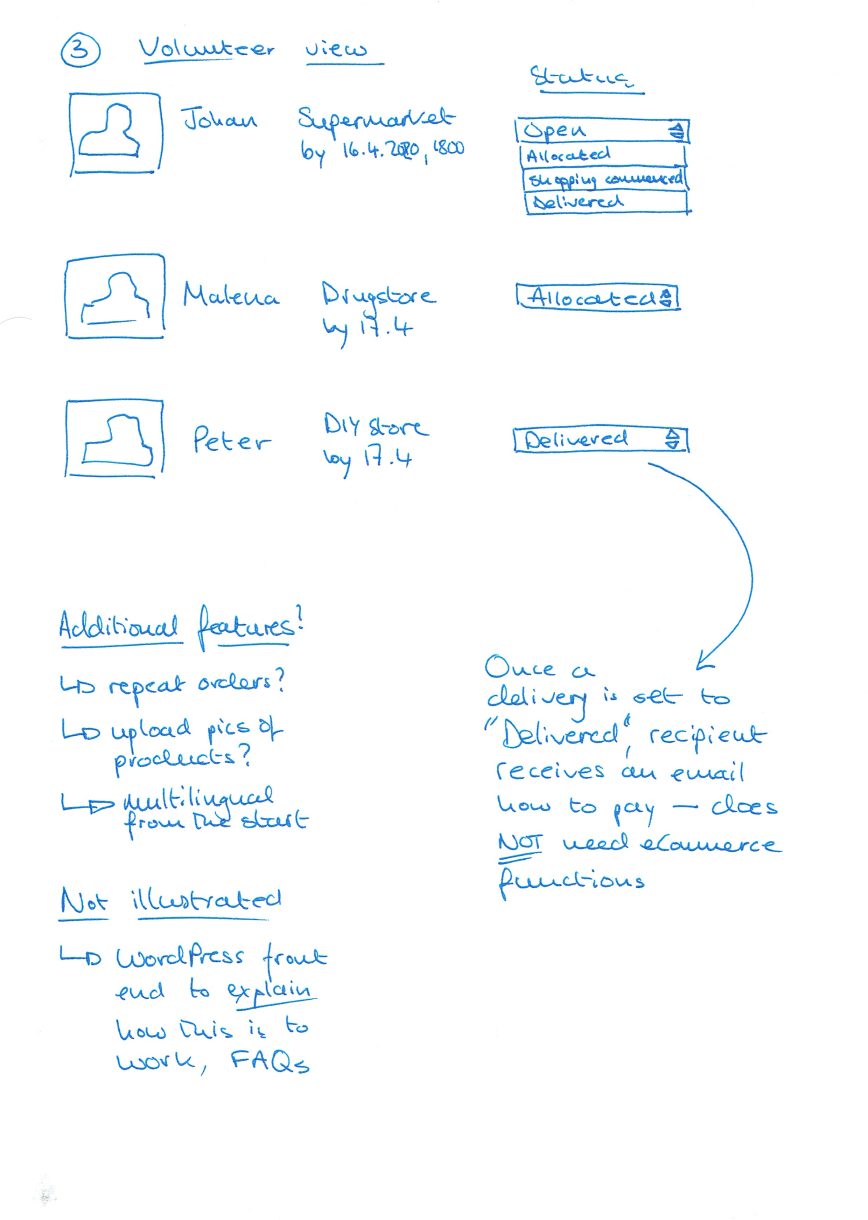 Why do it this way?
WordPress is free, open source, easy to install, and millions of people know how to use it. There is no need to invent a complete system from scratch.
Why restrict it just to shopping for people?
That strikes me as the main need right now, but this sort of I-can-help I-need-help matching could be deployed for other purposes too. But I need to start somewhere. Similar systems could work for looking after children, looking after pets, collecting prescriptions. But for now let's make sure people get essentials, and can self isolate.
What about helping people who do not have internet access?
That is going to need a different sort of intervention – perhaps even systems to lend devices to those people.
Why can you not just roll out a system like this to the whole city / region / country?
However much we might try to sort out a tech solution here, this system is going to need trust among its participants, and each instance of this "Shop for me" system is going to need a local coordinator. I can viably do that for 40 flats, or even 500, but probably not for more than that. The code would be made available to all, for free, open source. Assistance to get it running on a site for your neighbourhood would also be available. But this has to be done in a decentralised manner.
But here is the rub: this is just a spec. My PHP and MySQL skills are not up to the task of being able to code this. Are you a freelancer currently with little work who could help? A tech firm wanting to put your skills to a good purpose? Some kind of tech or hackers' network? If you are, please contact me and let's talk. And let's do this soon.
[UPDATE 19.3.2020, 1130]
So I have now run the ideas past the 40-odd people there are on the email list for the inhabitants of the building. The response? It's probably too complex. Oh and what about mass online orders from the supermarkets that offer that? So for the moment I have adjusted my idea – I have put together 4 simple Google Forms that save data into 4 Google Sheets. Three are for types of shopping orders: I need something specific now, I need something today from one of 5 different local shops (Pharmacy, DM (Drug store), LPG (Organic supermarket), REWE (Mid range supermarket), Lidl (Discounter)), and I want to add my order to a big weekly order from an online delivery service. And the fourth form is I want to help. I will roll this out on a test basis this afternoon. It's probably enough as a Minimum Viable Product for now.
The "I need something now" responses will be processed individually, the "I need something today" will require a submission by 1700, and then the delivery person can go on a specific route DM-Pharmacy-LPG, then back, Lidl, back, REWE, back, for the deliveries. The "I want to add my order to a weekly order" needs more work (another resident is keener on this one, and we need to work out this will work in practice).
Once the German of the forms has been corrected I will make generic, public versions of all forms for people to be able to copy them.
[UPDATE 21.3.2020, 1400]
So we have had to simplify this still further. The idea of weekly orders using supermarket ordering systems has been dropped for now because there is simply no viable way to make that happen as all those services have been overwhelmed. We may return to that idea eventually. So we are down to 3 forms: EXPRESS (I need something now), HEUTE (today, I submit by 1700 and it will be delivered by 2000, bought from 1 of 5 local shops), and HELFEN (for people that want to help out). These forms are all simple Google Forms.
We have also been wondering how to help people who do not have an internet connection – these people we will reach with paper forms, and an order postbox, in the hallway of the building (I am lucky that I live right next to the main entrance / exit door where we will put it). We also have a simple telephone system – an old VOIP number I have with SipGate that directs to an old iPhone here. If our system expands I have two further spare iPhones we can give to other volunteers.
We also have registered a domain name and put up a simple WordPress site at the moment just to explain to people what we are doing. And that we can then easily replicate for anyone else in other neighbourhoods who might do the same.