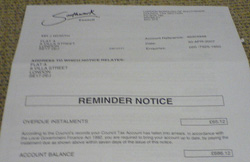 It took me months and months to arrange the payment of Council Tax at the flat I've lived in since 8th September 2006 in Southwark. I've blogged about the problems before. But by February I thought I had managed to fix everything – make my 2006 payment in one go, and then setup a Direct Debit.
Oh no. How wrong could I be. I have today arrived home to a terse 'Reminder Notice' (pictured) from Southwark telling me that my Council Tax is in arrears. How can it be in arrears? They have not even sent me a bill! Presumably there could be some valid reason for a wrong payment, but of course there's not a word of explanation. They also helpfully add the line on the notice: 'If payment is not made within seven days you will lose your right to pay by instalments'.
So if financial reasons (rather than their sheer incompetence) were the issue, they would aim to punish me twice. Great. Maybe time our Lib Dem-Tory administration did something about this? Fat chance.
[UPDATE – 4.5.07]
I called the Southwark Council Tax call centre, and they helpfully informed me that no direct debit had yet been setup, and that all that would have happened previously would have been solved if I had filled in a form – not sure that ever arrived. I asked if I could set up the Direct Debit on the phone and I was told no, you have to clear your payments first – on the premium rate automatic payment line of course – and then call back a week later to establish the Direct Debit, if the one-off payment has worked out. What a mess! Are they setting out to make it hard and complicated to pay?