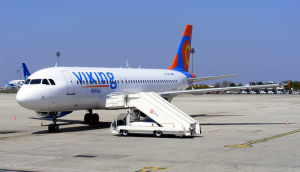 There's nothing quite like sitting for 5 hours in an uncomfortable seat with a fat, tattooed lump of a man reclining the seat in front of you, forcing a sharp ridge of protruding aluminium into your shin. The distance between my face and seat in front of me could literally be spanned by thumb and forefinger outstretched.
This was Viking Airlines, the most shoddy airline I've ever experienced.
The plane left Gatwick two hours late for no real discernible reason and no proper explanation given to passengers. There was no refreshment – even water – for free on a five hour flight (is that even allowed?) Air hostesses seemed more concerned by their lipstick than passengers and regularly knocked passengers in aisle seats. Viking – your operation is truly awful.
My return flight with Viking was cancelled, so I had to book Easyjet for that leg instead – looks like that will be a good bet in comparison!
Ranking just behind Viking was my experience with Thomas Cook Airlines, well documented on this blog. At least the plane was better for medium haul – a Boeing 757 – but the only thing organised properly when passengers had to be shipped by bus to Ottawa was the letter telling us we would not be compensated. Thanks.
Third in the list comes Ryanair. Here I've had one major negative experience – a flight cancelled from Karlsruhe-Baden to London and no alternative offered for 2 days. There's also the general impression with Ryanair that they are setting out to wring every last penny out of you, and fluorescent yellow plane interiors and chronically uncomfortable seats don't help. But all of that is balanced by tremendous value and, in most circumstances, flights that arrive on time.
In fourth position comes Vueling, the Spanish cheap airline. Their website is good and the planes I took ran on schedule but seriously how can any airline have such a small seat pitch? Are Spanish passengers just shorter on average?
Fifth place is awarded to Easyjet. The orange in the planes is little better than Ryanair's yellow, but they fly to more normal airports, the seats are more comfortable and I've never had a negative experience with them.
Ranking joint 6th – i.e. best among the cheap airlines I've used – are Germanwings and Wizz Air. Both of these companies have it just about right. Modern Airbus planes, comfortable but basic seats, enough space to sit comfortably, and routes to major airports. Both are simple, basic and efficient and you don't emerge at the other end irritated or stressed.
So there you have it – my subjective league table of cheap airlines!
In addition to those I've also flown Alitalia, Delta, Buzz, AirOne, BelleAir, Virgin Express, SAS, Lufthansa, Austrian, Iberia, British Airways, Blue1, Estonian Air, Air Baltic, Norwegian, Sterling, TAROM, Transavia, TUIfly, Ethiopian Airways, Condor, Brussels Airlines, bmi and Air Berlin. But somehow I've never flown Air France or KLM… (Damn, you now see how bad Viking was that I had to spend my time listing all the airlines I've flown with over the years!)